F1 – Verstappen quickest ahead of Hamilton in opening practice in Australia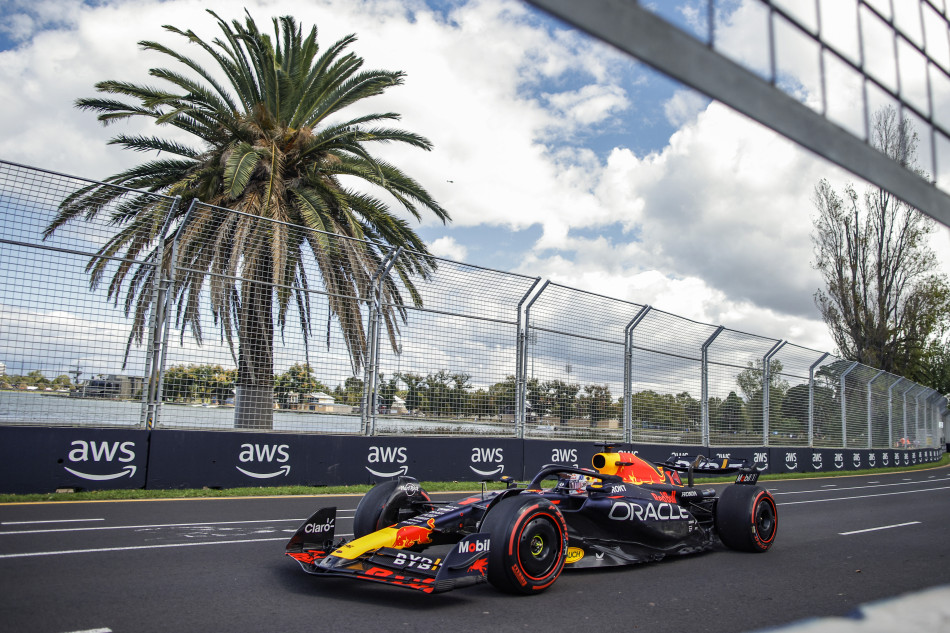 Red Bull Racing's Max Verstappen set the fastest lap of opening practice for the 2023 FIA Formula 1 Australian Grand Prix, beating Mercedes' Lewis Hamilton by almost half a second, despite suffering a spin a session twice interrupted by red flags.
Verstappen rose to the top of the order late in the session, first edging out team-mate Sergio Pérez who had led the way with a time of 1:19.293 set on medium tyres. Verstappen, on softs, initially nudged Pérez out of P1 with a lap of 1:19.278 but then used the advantage of the softer tyres to stretch to a time of 1:18.790 that left him 0.503 ahead of his team-mate. With a couple of minutes to go Hamilton then split the Red Bulls with a lap of 1:19.223 that left him 0.433s off Verstappen. The session effectively ended there, as moments after Hamilton had crossed the line, Williams' Logan Sargeant ground to a halt at Turn 11 reporting a loss of power.
Despite taking top spot it wasn't a straightforward session for championship leader Verstappen. The Dutch driver complained of problems with gear shifts before attributing the issue to rear brake problems. Later in the session he also suffered a lurid high-speed spin when he took too much kerb on the exit of Turn 4 and spun off sideways.
With strong winds sweeping across Albert Park a number of other drivers also suffered spins, with Pérez, Ferrari's Carlos Sainz, AlphaTauri's Yuki Tsunoda, and Haas' Kevin Magnussen all having off-track moments. Pérez's spin occurred on his soft tyre run, leaving the Mexican third thanks to his best medium-tyre time.
Fourth place in the session went to Fernando Alonso, with the Aston Martin driver ahead of the Ferrari pair of Charles Leclerc and Sainz.
Lando Norris took seventh for McLaren ahead of Alpine's Pierre Gasly, Russell and Lance Stroll, who rounded out the top 10 in the other Aston Martin.
As well as the red flag for Sargeant's stoppage, the session was halted just past the halfway mark when an issue with the GPS system was detected. With teams unable to inform their drivers about approaching cars carrying large speed differences, FIA race officials quickly stopped the session to remedy the problem. Running resumed after a nine-minute delay.
2023 FIA Formula 1 Australian Grand Prix – Free Practice 1
1 Max Verstappen Red Bull 17 1:18.790 241.157
2 Lewis Hamilton Mercedes 20 1:19.223 0.433 0.433 239.839
3 Sergio Perez Red Bull 19 1:19.293 0.503 0.070 239.627
4 Fernando Alonso Aston Martin 23 1:19.317 0.527 0.024 239.555
5 Charles Leclerc Ferrari 16 1:19.378 0.588 0.061 239.371
6 Carlos Sainz Ferrari 20 1:19.505 0.715 0.127 238.988
7 Lando Norris McLaren 16 1:19.536 0.746 0.031 238.895
8 Pierre Gasly Alpine 22 1:19.646 0.856 0.110 238.565
9 George Russell Mercedes 23 1:19.699 0.909 0.053 238.407
10 Lance Stroll Aston Martin 19 1:19.766 0.976 0.067 238.206
11 Alex Albon Williams 21 1:19.766 0.976 0.000 238.206
12 Oscar Piastri McLaren 22 1:19.777 0.987 0.011 238.173
13 Nico Hulkenberg Haas 19 1:19.806 1.016 0.029 238.087
14 Nyck de Vries AlphaTauri 25 1:19.933 1.143 0.127 237.709
15 Logan Sargeant Williams 21 1:20.074 1.284 0.141 237.290
16 Esteban Ocon Alpine 20 1:20.175 1.385 0.101 236.991
17 Yuki Tsunoda AlphaTauri 14 1:20.399 1.609 0.224 236.331
18 Valtteri Bottas Alfa Romeo 21 1:20.419 1.629 0.020 236.272
19 Zhou Guanyu Alfa Romeo 22 1:20.569 1.779 0.150 235.832
20 Kevin Magnussen Haas 17 1:21.147 2.357 0.578 234.152
Fuente: www.fia.com