ERC – Llarena set for final title push in Czech Republic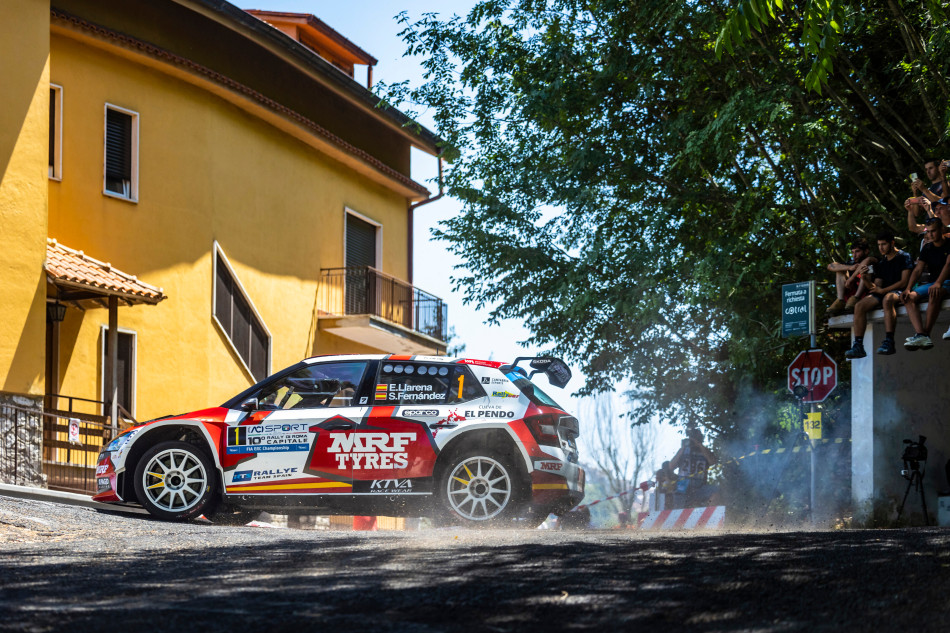 Just 13 points stand between Efrén Llarena and his FIA European Rally Championship dreams at Barum Czech Rally Zlín this week (26 – 28 August).
Llarena and co-driver Sara Fernández lie 58 points clear of Romanian rival Simone Tempestini. A top seven finish would see the Spanish pair crowned champions with one round to spare on their debut season with Team MRF Tyres.
Tempestini and co-driver Sergiu Itu are in the lap of the gods. They must focus on finishing as high up the order as possible while praying Llarena has a poor result.
If fortune swings in Tempestini's favour, the title will be decided at Spain's final round in October. Both crews compete in Škoda Fabia Rally2 cars.
The rally is based 300km south of Czech capital Prague and brings a challenge like no other due to its bumpy and sometimes broken asphalt surface. To add to the spectacle, several stages feature high-speed blasts through forests and intermittent rain showers are always possible.
With the objectives clear, Llarena is feeling cool about his championship hopes. While Fernández took last year's co-drivers' title, he was forced to settle for second in the drivers' championship behind Andreas Mikkelsen.
"For sure, our target is to try to win the championship this weekend," Llarena admitted. "But I am not feeling any pressure at all.
"In our own minds, we would like to be fighting for the [rally] podium, but we are just going to focus on doing our own rally and we will see what happens," he added.
Javier Pardo, Simone Campedelli and Norbert Herczig join Llarena in identical MRF-shod Škodas, with Pardo and Campedelli still in contention for a top-three championship result.
A fan-favourite, Barum Czech Rally Zlín has also attracted a stellar 114-car entry which includes an array of local stars. Jan Kopecký is a nine-time winner of the event and also fields a Fabia, while Erik Cais drives a Ford Fiesta Rally2.
Cais has unfinished business in Zlín: he led until the very last stage in 2021 but crashed out of contention in the final kilometres – handing victory to Kopecký. Fabia man Filip Mareš will be another driver gunning for home glory having won a number of stages at the previous round in Italy.
Other big names include Ken Torn in a Fiesta plus Alberto Battistolli and Simon Wagner in a pair of Fabias. Tom Kristensson, who has already netted one ERC podium this season, returns with a Hyundai i20 R5 prepared by local team Kowax 2B Rally.
The rally starts on Friday evening with a city-centre super special stage run under darkness. The total route comprises 13 stages totalling 202.57km.
Fuente: www.fia.com