Al-Attiyah and Baumel clinch Rally of Lebanon victory and MERC title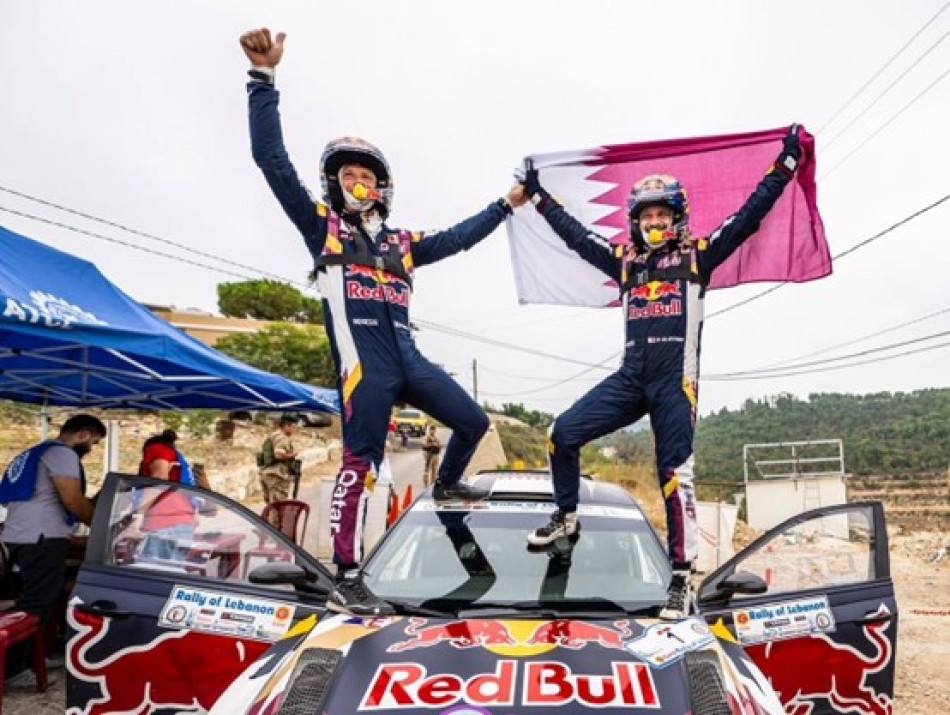 Al-Attiyah had already clinched a record-breaking 18th regional title before the final round, while Baumel confirmed an eighth co-driver's title with victory on the Jounieh-based event.
At the helm of an Autotek Motorsport-run Volkswagen Polo GTI R5 for the fourth year, Al-Attiyah won eight of the event's slippery and twisty tarmac stages to confirm a record-breaking 82nd career MERC event win. Baumel now has 30 MERC rally wins under his belt.
Once 15-time Rally of Lebanon winner Roger Feghali and his co-driver Joseph Matar had crashed out of second place on Saturday morning, the Qatari was never really troubled and went on to secure a comfortable winning margin of 5min 52sec over the Lebanese Škoda Fabia R5 crew of Bassel Abu Hamden and Firas Elias.
Al-Attiyah said: "The Middle East Rally Championship is important to me and has been a major part of my programme for many years. It is fantastic to win the title again and I am very happy to win again in Lebanon. It is never easy to come here and win. The local competition is always very strong."
Tamer Ghandour and Salim Jleilaty were the 2016 event winners and won two special stages this time out on their way to third overall in a second Škoda Fabia R5.
Jordanian driver Issa Abu Jamous held a 13-point advantage in the FIA MERC2 Championship over fellow countryman Ihab Al-Shorafa heading into the Lebanese showdown but his rival looked set to beat him on the asphalt until the final stage.
Al-Shorafa duly lost five minutes on the Hboub finale, slipped behind his rival to finish 11th overall, fourth in MERC2 and missed out on additional points for the title race. Tenth-placed Abu Jamous had the delight of claiming the prestigious regional showroom title for the firtst time in his Mitsubishi Lancer Evolution IX and also snatched the unofficial runner-up spot in the MERC Driver's Championship.
Chadi Fakih and Samer Sfeir took advantage of niggling turbo issues for Alex Feghali to snatch fourth overall and victory in the MERC2 section on the event in their Mitsubishi Lancer Evolution X. Time penalties and on-stage delays meant that Feghali and co-driver Marc Haddad finished fifth and second in MERC2. The youngster's consolation was third place in the MERC2 Driver's Championship.
Local Elias Dehni and co-driver Amin Akl were classified sixth overall in the leading two-wheel drive Citroën DS3.
Qatari veteran Nasser Khalifa Al-Atya teamed up with Poland-based Italian navigator Giovanni Bernacchini to confirm seventh place in a Ford Fiesta R5. The result concluded yet another consistent MERC campaign for the 1993 series runner-up, who moved up to third in the MERC Driver's Championship.
Former FIA MERC3 champion Henry Kahy (Citroën DS3) teamed up with Carlos Hanna to reach Jounieh in eighth and Ahmad Khaled and Jordanian co-driver Musa Dyijerian finished ninth and third in MERC2 in their Mitsubishi.
Action got underway on the 10-stage event being hosted by the Automobile and Touring Club of Lebanon (ATCL), with a 2.52km super special stage late on Friday evening, near Jounieh. Neither Al-Attiyah nor local hero Roger Feghali could be separated through the opener and both Volkswagen drivers stopped the clocks in 1min 49.9sec.
Al-Attiyah drew first blood on the opening Ain Aaya stage of 21.40km and edged into a slender 1.5-second advantage. He extended that cushion to 3.9 seconds through the Sourat special, but the eagerly-awaited duel between the Qatari and the Lebanese ended in the second pass through Ain Aaya when Feghali left the road under braking and was unable to continue.
Another fastest time in the final stage of the day gave Al-Attiyah a commanding lead of 3min 26.4sec after Oman's Abdullah Al-Rawahi spun his second-placed Škoda Fabia R5 at high speed, clouted a roadside electrical pole and damaged the rear suspension, his demise confirming the MERC Co-driver's title for Mathieu Baumel and ruining the chance of a 1-2 finish for Autotek Motorsport.
Abu Hamdan moved up to second overall and Alex Feghali rounded off the top three and topped the MERC2 standings heading into the remaining five stages on Sunday.
Al-Attiyah noticeably eased his pace on the final two runs through the Nahr Ibrahim stage and three passes of the Hboub test. The Qatari ceded the quickest time to Ghandour in SS6 but was faster than the Lebanese in SS7. Al-Rawahi had restarted under the Rally2 ruling and set the third quickest time on the first stage of the morning, but a second accident side lined the Omani in stage seven.
Turbo-related issues were plaguing Alex Feghali and the young Lebanese lost the MERC2 lead to Chadi Fakih as a result.
Ghandour was again fastest in SS8, although Al-Attiyah was back on track in the penultimate stage and a quickest time in the closing timed test sealed an emphatic second win for the Qatari on Lebanese tarmac.
| | |
| --- | --- |
| 44th Rally of Lebanon – final results: | |
| 1. Nasser Saleh Al-Attiyah (QAT)/Mathieu Baumel (AND) Volkswagen Polo GTI R5 | 1hr 52min 24.0sec |
| 2. Bassel Abu Hamdan (LBN)/Fras Elias (LBN) Škoda Fabia R5 | 1hr 58min 16.0sec |
| 3. Tamer Ghandour (LBN)/Salim Jleilaty (LBN) Škoda Fabia R5 | 1hr 58min 26.7sec |
| 4. Chadi Fakih (LBN)/Samer Sfeir (LBN) Mitsubishi Lancer Evo IX | 2hr 04min 27.6sec |
| 5. Alex Feghali (LBN)/Marc Haddad (FRA) Mitsubishi Lancer Evo X | 2hr 06min 27.5sec |
| 6. Elias Dehni (LBN)/Amin Akl (LBN) Citroën DS3 | 2hr 07min 57.1sec |
| 7. Nasser Khalifa Al-Atya (QAT)/Giovanni Bernacchini POL) Ford Fiesta R5 | 2hr 14min 17.3sec |
| 8. Henry Kahy (LBN)/Carlos Hanna (LBN) Citroën DS3 | 2hr 19min 20.9sec |
| 9. Ahmad Khaled (LBN)/Musa Djiyerian (JOR) Mitsubishi Lancer Evo X | 2hr 27min 04.6sec |
| 10. Issa Abu Jamous (JOR)/Emad Juma (JOR) Mitsubishi Lancer Evo IX | 2hr 36min 13.3sec |
| 11. Ihab Al-Shorafa (JOR)/Yousef Juma (JOR) Mitsubishi Lancer Evo X | 2hr 38min 35.0sec, etc |
The MERC standings can be consulted on fia.com
Fuente: www.fia.com