Virves becomes first Estonian Junior WRC Champion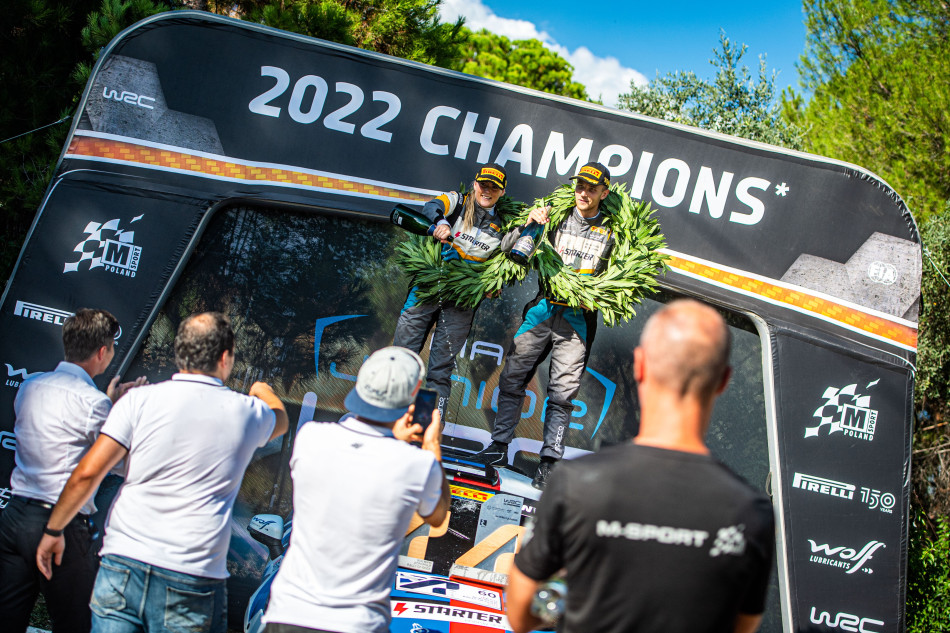 Virves wins a career-boosting prize package with four fully funded WRC2 prize drives with M-Sport in a Fiesta Rally2 for 2023 including a pre-event test and 200 Pirelli tyres.
Jon Armstrong pushed Virves hard throughout the entire rally in the fight for the championship as Armstrong's co-driver, Brian Hoy, was crowned 2022 FIA Junior WRC Co-Drivers' Champion.
Virves entered the rally having never won a Junior WRC rally before but had come close on numerous occasions. He entered Sunday with a 55-second advantage over Armstrong who had taken over a minute out of his lead on Saturday.
Three tense stages lay ahead as the pair did battle for a life-changing prize package. Armstrong dealt the first blow on Sunday, taking 20 seconds out of Virves' advantage to really apply the pressure heading into the final two stages of the season. Virves responded to Armstrong's advances with a well-driven stage, going 2.6 seconds faster and enough to give him a healthy margin heading into the final stage of the rally.

The Wolf Power Stage lay ahead as Virves did battle with Armstrong one last time with both drivers' careers depending on the outcome. Armstrong delivered a blisteringly quick stage time, going 18 seconds faster than Virves but crucially Virves had done enough to earn himself the 2022 FIA Junior WRC crown and his maiden FIA Junior WRC rally victory.
While the fight for the lead broke out, William Creighton had been putting in consistently fast split times to claim his second Junior WRC podium of his career to end the 2022 season on a high. It marked the end of a season with flashes of speed punctuated by Wolf Stage Win Points for Creighton.
McRae Kimathi scored a season's best fourth overall on Greece, matching his best result at the start of the season on Rally Sweden. The result sees Kimathi claim sixth overall in the championship.
Sami Pajari's hopes of winning the title relied on major dramas for Virves and Armstrong which didn't materialise. The Finn kept himself on the road on Sunday to finish fifth, taking consolation with the 2022 Wolf Stage Win Award, claiming a total of 31 Wolf Stage Wins throughout the season.
Maciej Woda, FIA Junior WRC Championship Manager, said:
"We have a very, very deserving Junior WRC Champion in Robert Virves. He has had a real rollercoaster season after retiring from the first day of Rally Sweden and coming so close to victory in Croatia and Estonia. It's been an incredible season of achievement for him and I cannot wait to see him progress his career next season in a Fiesta Rally2. I want to make a special mention about his co-drivers, Julia Thulin and Aleks Lesk. He switched co-drivers midway through this year but both of them have each contributed to this success and deserve recognition for it. I want to also commend Jon Armstrong and Brain Hoy for putting on an incredible show of determination and never giving up. The times they delivered this weekend were phenomenal and without mistakes, our sport is a cruel one, but they should be proud of what they have achieved this year."
Robert Virves, 2022 FIA Junior WRC Champion, said:
"Feelings are quite good I would say! Obviously I think maybe I haven't realised it yet, what I have achieved, but yeah, I feel really good. I was taking it as any other event and yeah obviously it wasn't the easiest one to decide the championship in because we knew it would be really, really rough for the cars and the tyres so after Portugal, which wasn't close to this one by the roughness I finished the rally with seven punctures. So coming here was yeah, not the easiest task but as I said I didn't feel any big pressure or anything I just had to learn from the mistakes from the past and I just tried to make it altogether here and I think it worked out really well. I just tried not to stress myself. I just woke up, had my regular coffee, took my car and went to the stages. So yeah, of course I had some strategy for today because both runs of the Power Stage were really, really rough, even rougher than I expected so my plan was just to be easy there and push on the second one. The gap was enough, so that's all I needed. I knew that I can't back off too much because the road conditions were I think the worst of them all during this weekend, so yeah I tried to be fast in the places where it felt and looked safe and I had to back off a little bit in the rougher sections just to be 110 per cent sure that the tyres and the car will last. But even then, we had surprises like the biggest rock during the rally which was behind a blind corner and I had no chance to avoid it, it was quite big impact but yeah, everything worked out fine."
Fuente: www.fia.com