W2RC – Loeb wins in Andalucia but Al-Attiyah secures inaugural W2RC drivers' title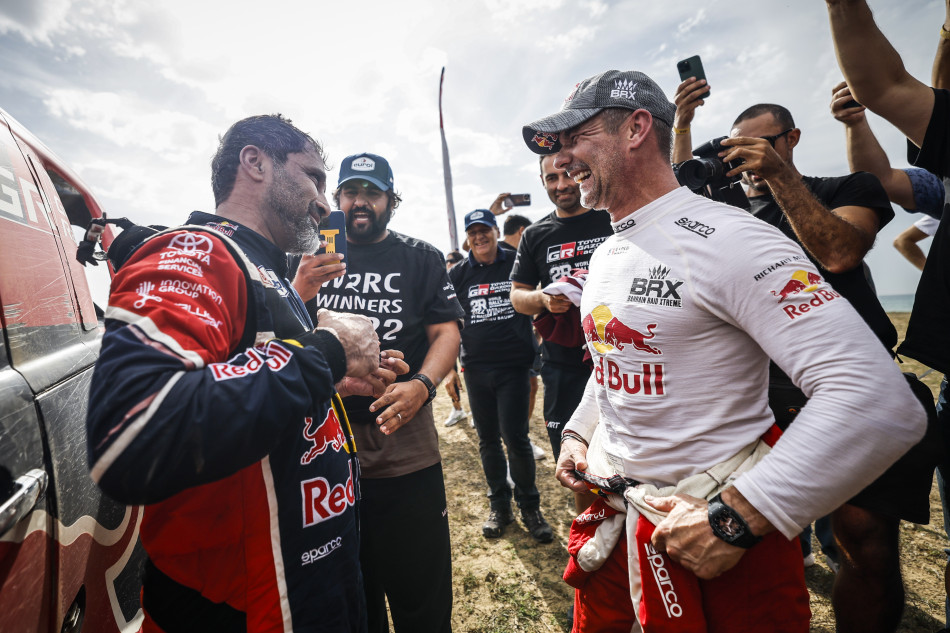 FIA W2RC T3 and T4 titles for Francisco López and Rokas Baciuška
Guillaume de Mevius and Pau Navarro win T3 and T4 in Andalucia
Sebastien Loeb managed to fend off a fierce challenge from Nasser Saleh Al-Attiyah to win the shortened Andalucia Rally but second place was sufficient for the Qatari to clinch the Drivers' title in the inaugural FIA World Rally-Raid Championship (*subject to FIA confirmation).
Loeb made a promising start and winning the 9.61km Qualifying Stage gave the Frenchman the perfect position to attack over the opening 317.33km selective section through rural terrain in the Sevilla region. But the Prodrive Hunter BRX driver suffered navigational delays early in the stage and that time loss was exacerbated by steering issues and a flat tyre.
Al-Attiyah had been awarded a one-minute time penalty for a speeding violation on the Qualifying Stage that had pushed the Qatari down to 21st overall. But the Toyota driver bounced back strongly to win the stage from 11th on the road to lead by nearly eight minutes from his team-mate Yazeed Al-Rajhi.
Loeb and Belgian-driver Fabian Lurquin needed to respond quickly but adverse weather conditions caused a delay to the start of the 323.74km second stage through the Málaga Province and the day's action was later cancelled after the original plan to reduce the competitive distance to 84km was axed.
Day three headed into the Huelva region and fog caused a delay before action got underway on the 284km section. Al-Attiyah's lead had risen by an additional minute when his earlier speeding penalty was rescinded.
Loeb hit back strongly and the fastest time for the Hunter driver gave him a 28-second advantage to take into the final day after Al-Attiyah sustained two punctures.
The FIA decided that only half points would be awarded as a result of the lost competitive distance. Loeb ceded 22 seconds to Al-Attiyah on the 100km finale, near Cadiz, and held on to claim victory.
But Al-Attiyah had done enough to win the title with Andorra-based co-driver Mathieu Baumel in their South African-built Toyota Gazoo Racing GR DKR Hilux. Toyota Gazoo Racing also pipped Bahrain Raid Extreme to the W2RC Manufacturers' title (*subject to FIA confirmation).
Al-Attiyah said: "We finish the race. It was amazing for us here in Andalucia. It was important to win the World Championship for the first time in cross-country. Yesterday we lose a lot of time with two punctures and today we tried to push. The difference between us was only six seconds. But the World Championship was the most important."
Loeb said: "The impression is good because we won the race and had a good battle. We lost a lot of time on the first day but after that we did a very good stage and catch back 11 minutes. It was a tight fight with Nasser today and we won by six seconds. That is quite incredible. I had a lot of fun. The car was working well. We knew when we arrived here that we had lost too many points in Morocco. We could just try to fight for the win. We had a good experience this year for the Dakar."
Saudi Arabia's Yazeed Al-Rajhi and German co-driver Dirk von Zitzewitz rounded off the podium places in their Overdrive Racing Toyota Hilux and Al-Rajhi secured third place in the points' standings.
Rally of Morocco winner Guerlain Chicherit teamed up with Alex Winocq and initially guided the second of the Prodrive Hunters to fourth but the Frenchman did not clock in at the final time control. Portugal's João Ferreira and David Monteiro suffered technical issues early in the event in their Mini John Cooper Works Rally.
Francisco Lopez arrived in Spain with a 28-point lead in the FIA T3 Drivers' Championship and the Chilean measured his pace to perfection. He shadowed the Red Bull Off-Road Junior Team duo of Guillaume De Mevius and Seth Quintero to the finish to seal third in T3 and sixth overall and that was sufficient for the South Racing Can-Am driver to add the FIA W2RC T3 World Championship title (*subject to FIA confirmation) to his Dakar Rally win.
De Mevius and Quintero were classified fourth and fifth in the final overall classification. De Mevius's co-driver François Cazalet also won the W2RC T3 Co-drivers' title.
Their Grallyteam OT3 team-mate Cristina Gutierrez suffered costly time delays on the third stage that ruined her chance of lifting the title. The Spaniard came home in fifth in T3 behind PH Sport's Mathieu Serradori. South Racing Can-Am Team's Fernando Alvarez was sixth.
De Mevius said: "Three stage wins for us and the race win, so very happy with that. This is my first win in W2RC and François (Cazalet) is the world champion co-driver, so I am happy for him. It was a good championship."
Poland's Marek Goczal started the event with a one-point lead over Lithuania's Rokas Baciuška and a two-point cushion over American racer Austin Jones in the W2RC T4 Drivers' Championship. Jones suffered fuel pressure issues and an accident on the first two days and slipped behind his rivals. The pendulum swung in Baciuška's favour when Goczal crashed his Cobant-Energylandia Team Can-Am Maverick out of contention on the third stage.
The Lithuanian held on to seal the inaugural T4 title (*subject to official FIA confirmation) for the South Racing Can-Am Team.
Baciuška said: "We are World Champions but it was not an easy race. This is the first title in my life. It was a real pleasure to be here. This rally was not easy. We just drive easy today to make sure we were okay."
Young FN Speed Team driver Pau Navarro won the category on his home event and finished seventh overall after an impressive performance in a Can-Am Maverick X3.
2022 Andalucia Rally – final results:
1. Sébastien Loeb (FRA)/Fabian Lurquin (BEL) Prodrive Hunter BRX 8hr 40min 35sec*
2. Nasser Saleh Al-Attiyah (QAT)/Mathieu Baumel (FRA) Toyota GR DKR Hilux 8hr 40min 41sec*
3. Yazeed Al-Rajhi (SAU)/Dirk von Zitzewitz (DEU) Toyota Hilux Overdrive 8hr 50min 01sec*
4. Guillaume de Mevius (BEL)/François Cazalet (FRA) Grallyteam OT3 (T3) 9hr 07min 42sec*
5. Seth Quintero (USA)/Dennis Zenz (DEU) Grallyteam OT3 (T3) 9hr 15min 45sec*
6. Francisco López (CHL)/Oriol Mena (ESP) South Racing Can-Am Maverick X3 (T3) 9hr 29min 45sec*
7. Pau Navarro (ESP)/Michael Metge (FRA) Can-Am Maverick XRS Turbo (T4) 9hr 33min 50sec*
8. Gerard Farrés (ESP)/Diego Ortego (ESP) Can-Am Factory South Racing Maverick (T4) 9hr 35min 12sec
9. Mathieu Serradori (FRA/Loic Minaudier (FRA) Zephyr (T3) 9hr 40min 22sec*
10. Isidre Esteve Pujol (ESP)/José-Maria Villalobos (ESP) Toyota Hilux Overdrive 9hr 44min 42sec
11. Rokas Baciuška (LTU)/Oriol Vidal (ESP) Can-Am Maverick XRS Turbo (T4) 9hr 44min 58sec*
* denotes registered for W2RC
Fuente: www.fia.com