ERC: All eyes on Fafe for the start of 2023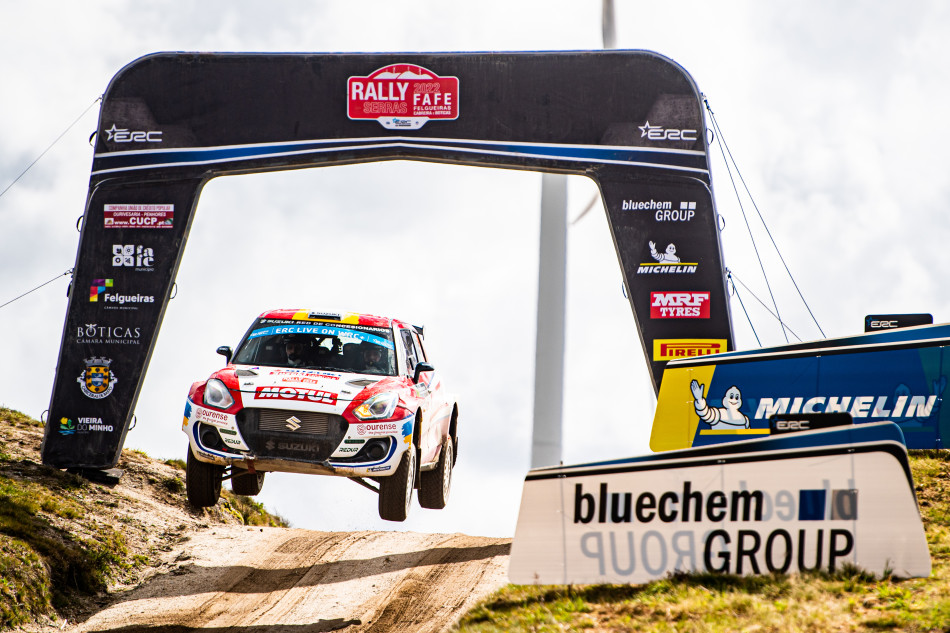 And to further underline the popularity of the ERC – the recognised feeder series to the FIA World Rally Championship – 48 crews have registered to score ERC points on round one of the 70th-anniversary season in northern Portugal, 14 national or regional champions are taking part, while 23 nationalities are represented.
ERC Championship Manager Iain Campbell said: "It's fantastic to be heading into the ERC's 70th-anniversary season knowing there is so much interest in the championship based on the size of the entry. But as well as being big on quantity, the entry is also big on quality with an incredible number of top-level drivers plus drivers new to the championship aiming to gain international experience but in a highly competitive environment taking part. It's also great news that so many nationalities are represented."
Established in 1953, the ERC remains Europe's premier rally series and the recognised springboard for drivers stepping up from national level with the aim of one day forging a career in the FIA World Rally Championship. With events taking place over two days, the action is constant and the battles for position intense, making the ERC an ideal way to gain knowledge and build experience of international-level competition.
Drivers in Rally2 cars can partner with one of four leading tyre manufacturers: Hankook, Michelin, MRF Tyres or Pirelli.
There are categories for Rally3 cars (ERC3) and Rally4 and Rally5 cars (ERC4), while young, up-and-coming talents are given their chance to shine in the FIA Junior ERC Championship, supported by Hankook, which begins on ORLEN 79th Rally Poland in May.
Rally Serras de Fafe, Felgueiras, Boticas, Vieira do Minho e Cabeceiras de Basto provides a tough start to the 2023 ERC season, with 16 challenging gravel-based stages, plus a super special stage though the Tarmac and cobblestone streets of host town Fafe. The event route covers 180.29 kilometres and concludes with the Lameirinha Power Stage, complete with the iconic Pedra Sentada jump, from 16:00 local time on Sunday.
FIA ERC 2023: what's new?
As the 2023 FIA European Rally Championship season gets ready for lift-off, here's a reminder of what's new for this year.
– ERC Royal Rally of Scandinavia is an exciting new addition to the FIA ERC calendar. Based in Karlstad, the event will use all-gravel stages with plans to include the iconic Colin's Crest Arena within the route.
– Rally Hungary is back on the FIA ERC schedule after missing out in 2022 and takes over the season-closing slot.
– Škoda's Fabia RS Rally2 will make its first FIA ERC appearance on Rally Serras de Fafe, Felgueiras, Boticas, Vieira do Minho e Cabeceiras de Basto. Renault's Clio Rally3 is set to make its competition debut later this season.
– ERC4 Junior becomes FIA Junior ERC Championship to bring consistency with the FIA World Rally Championship's young driver category, the FIA Junior WRC Championship, and the Junior categories in other FIA Regional Rally Championships.
– Teams' championship points are awarded to the top 15 overall eligible finishers, rather than being based on separate two- and four-wheel-drive classifications as was the case in 2022.
– Hankook joins existing partners Michelin, MRF and Pirelli as registered FIA ERC tyre manufacturer. The brand also follows Pirelli as the FIA Junior ERC Championship's official tyre supplier.
– Official tyre suppliers can designate from a list previously supplied to governing body the FIA one specification of dry-weather tyre supplied in three compounds but in the same pattern plus one specification wet-weather tyre. Each supplier can substitute one Tarmac tyre and one gravel tyre across the season.
Fuente: www.fia.com