WRC – Creighton takes last gasp Junior WRC victory in Sweden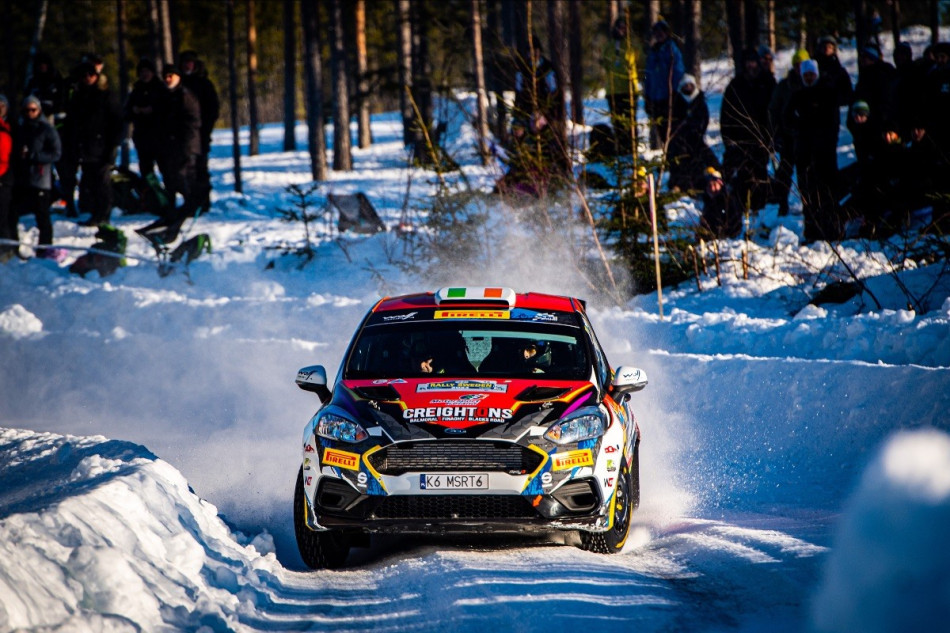 It started with the Red Barn Arena stage, opening Rally Sweden on Thursday evening with Creighton taking the first Wolf Stage Win Point of the season.

The Irishman then opened his Friday with a clean sweep of stage wins on the morning loop to shoot ahead into the lead with a total of four Wolf Stage Win Points.

Gregoire Munster had encouraging pace on Friday running second but a small off on stage four dropped him to third.

2022 ERC Junior Champion Laurent Pellier was competing on snow and ice for the first time and had never driven the Fiesta Rally3 before. Despite a sluggish start, the Frenchman ended Friday in second with a rapid rate of progression in pace.

Out front by 34.5 seconds was Creighton at the end of Friday, leading the day from start to finish and notching an impressive six Wolf Stage Win Points.

The podium positions switched on Saturday with a new leader emerging at the end of the day.

Creighton extended his lead to 50 seconds after the first stage of Saturday, maintaining his lead for the rest of the loop.

Munster took back-to-back Wolf Stage Win Points on stages nine and ten but at the start of the afternoon loop he collided with a snowbank and dropped to fourth.

Paraguayan Diego Dominguez delivered consistent and competitive times on Saturday, and for his efforts, found himself in a comfortable podium position at the end of the day.

Pellier began his fight-back in the afternoon, chasing down Creighton's huge lead. The Frenchman knocked 8.4 seconds out of Creighton's lead on stage 12 before drama descended on Junior WRC.

It was disaster for Creighton. An almost one-minute lead and all his hard work came undone after his open bonnet flung open mid stage, forcing him to stop and secure it in place. Creighton lost 51.1 seconds and with it the lead.

Frenchman Pellier seized the lead with both hands to end Saturday, adding insult to Creighton's injury by extending it by sealing another two Wolf Stage Win Points increasing his advantage to 19.7 seconds.

Three stages separated Laurent Pellier from victory on Sunday, and for William Creighton, it was three stages and a 19.7 second deficit to overcome.

Creighton bolted like a stabbed rat on Sunday's opening stage, rinsing Pellier's lead down to just 6.1 seconds in just one stage.

By the penultimate stage of the rally, Creighton and Pellier's pace stepped up to a new level, outpacing the Junior field as they fought hard for top honours.

Creighton eclipsed Pellier with another fastest stage time to move into the lead by just 2.7 seconds and claim his tenth Wolf Stage Win Point of the rally.

The final stage was go hard or go home for both drivers, Pellier had to beat Creighton to win the rally. The atmosphere was electric as the split times of both drives came in during the final stage, Pellier had the upper hand, going 1.7 seconds faster on the first split and then 2.7 seconds on the last split. 300 kilometres of competitive action and the top two were neck and neck with just one kilometre left and Pellier storming the stage.

A last gasp effort meant full send for Creighton in the Red Barn Arena section, not lifting over the jumps, and putting everything into chasing a maiden career victory in Junior WRC. He crossed the finish line and by a whisker he won the rally! Clawing enough time back in the final kilometre to win by just six tenths of a second, Junior WRC's second closest finish in its 22-year history.

With all the excitement up front, Dominguez cruised through Sunday's stages to secure third in Junior WRC, his debut podium in the category and the second Paraguayan in the history of the championship to do so.

Gregoire Munster adopted a similar approach, while he had the pace to take on the top-two for Wolf Stage Win points, he chose to bring home a solid result on his snow and ice debut.

Despite a difficult start to Rally Sweden, Raul Hernandez made a respectable debut on the Swedish snow and ice. His pace progressed throughout the rally, culminating in the 21-year-old Spaniard finishing fifth in Junior WRC.

Roberto Blach was able to deliver consistent pace with sixth in Junior WRC, ahead of Belgian Tom Rensonnet who showed flashes of speed through the rally but due to various problems could only muster seventh on his Junior WRC debut.

Hamza Anwar collected four Junior WRC Championship points with eighth place on his first outing in the championship. He collected valuable experience throughout the rally as he gets to grips with European rallying.

Eamonn Kelly, had an up and down rally, running as high as fifth at one point and demonstrated top-three capabilities. He restarted the rally on Saturday following a roll on stage six and then on Sunday he retired from the rally after an accident on the opening stage of the day, with the crew walking away unharmed.
Maciek Woda, FIA Junior WRC Championship Manager, said: "Today has been seen history made in Junior WRC, a new winner and one of the closest finishes the championship has ever had. William Creighton and Liam Regan should be very proud of themselves. They represented Ireland proudly this weekend and this victory serves as a reward for all of the hard work and commitment they have invested in the two years. I have to say the same for Laurent and Marine too. To lose a victory by just six tenths is hard to take but Laurent took this defeat with grace and modesty, his attitude has certainly impressed me and I think we haven't seen the last of him fighting for victories this year. A congratulations to Diego and Rogelio too, scoring a maiden Junior WRC podium together, I think like Laurent and Will, we will see more from Diego throughout the year and I cannot wait. Bring on Croatia!"
William Creighton, FIA Junior WRC Rally Sweden Winner, said: "It's been extremely stressful since yesterday afternoon, after the bonnet came up we lost a lot of time and even going to bed last night I was doing my best to try and think that it was still possible but it was difficult. This morning we just did everything that we could, we started well, we got a good stage time. Going into the last stage we had to be as tidy as we could. I can't believe it, I have to say thank you to so many people, we have been in this championship for two years now, Motorsport Ireland Rally Academy, my family DGM Motorsport. I'm really happy for everyone involved.
Fuente: www.fia.com