All Aboard for WRC's island adventure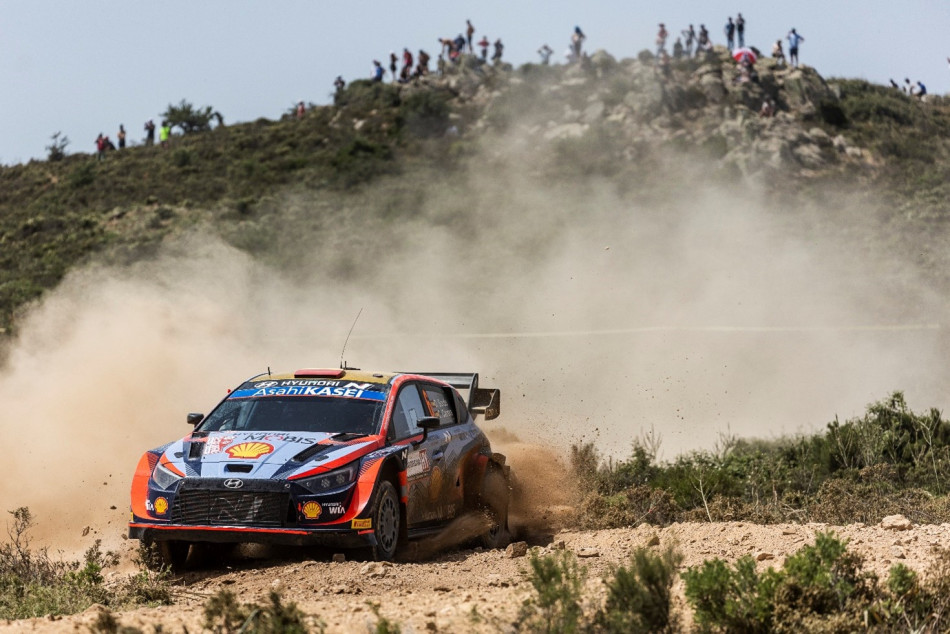 As well as forming round six of a typically action-packed WRC season, the upcoming gravel contest marks the 20th anniversary of this challenging rally, first run in 2004 following the relocation of Italy's world championship counter from the mainland to the picturesque Mediterranean island.
Given the significance of the occasion, event organiser, Automobile Club d'Italia, has revisited elements of the route from 2004, and also increased the length of the famous Monte Lerno stage – complete with the iconic Micky's Jump – to an energy-zapping 49.90 kilometres. The Kitzbühel downhill skiing course-inspired descent on the Terranova stage is also back.
After returning to his title-winning form of 2022 with a dominant victory on Vodafone Rally de Portugal earlier this month, Kalle Rovanperä holds the championship lead for Toyota Gazoo Racing. But while the Finn is back on familiar ground, he now faces the prospect of sweeping a clean line through the loose-surface gravel on the opening leg of the event (June 2).
Like his rivals – organisers have attracted a 74-car entry – Rovanperä, with Jonne Halttunen co-driving, will also be braced for narrow but fast rock- and tree-lined stages, high ambient temperatures plus the potential for hanging dust in certain sections.
While celebrating Rally Italia Sardegna's first two decades takes centre stage, a strong focus will be placed on the future. In addition to hosting round three of the FIA Junior WRC Championship, Sardinia has been the setting for the FIA Rally Star Training Camp since May 21.
Providing crucial experience and guidance to the six young talents preparing to embark on the inaugural FIA Rally Star Training Season next month, the Training Camp concludes with the two-day reconnaissance for Rally Italia Sardegna, plus a day of media-based activities in the event service park on June 1.
Some 600 personnel – 300 officials and 300 marshals – are providing their expertise to ensure the safe and successful running of Rally Italia Sardegna, under the coordination of the event organiser and Automobile Club d'Italia (ACI).
Meanwhile, Pirelli, the FIA World Rally Championship's official tyre partner, is supplying its Scorpion KX soft and hard tyres to Rally1 crews contesting Rally Italia Sardegna. The hard compound is the first choice and will be used in warm and dry conditions. In the event of cool and damp conditions, the soft-compound option will be selected. Rally1 teams can use a maximum of 28 tyres during the rally including four for Shakedown stage on Thursday morning.
THE ROUTE IN SHORT
Running out of Olbia following a year back in Alghero last season, the 20th Rally Italia Sardegna timed action begins on Thursday with a 3.23-kilometre superspecial in Olbia from 18:05 local time.
Friday's route is based south of Olbia and is formed of two loops of three stages over a competitive distance of 141.27 kilometres. The returning 10.71-kilometre Tantariles test, part of the 2004 route, is up first from 08:40 followed by the 8.41 kilometres of Terranova (09:31) and the 49.90-kilometre Monte Lerno stage, which is scheduled to begin at 10:21. Following service in Olbia's Molo Brin, the morning stages run for a second time in the afternoon with the second pass of Tantariles starting at 14:32.
Based southwest of Olbia, Saturday's second leg features four repeated stages over 135.46 competitive kilometres. Covering 16.28 kilometres, Coiluna-Loelle kicks off proceedings from 08:05 ahead of Su Filigosu, Erula – Tula and Tempio Pausania. A service halt in Olbia is due to start at 13:10.
Competitors journey north of Olbia for Sunday's double-use stages that make up a total of 46.02 timed kilometres. Arzachena – Braniatogghiu, a 15.22-kilometre run from 07:05, is first with the 7.79-kilometre Sardegna test due to go live at 08:05. The early morning stages are repeated at 10:09 and 12:15 respectively with Sardegna 2 forming the 50th Wolf Power Stage from 12:15.
RALLY ITALIA SARDEGNA DATA
Stage distance: 322.75 km
Total distance: 1170.06 km
Number of stages: 19
RALLY1 HYBRID CONTENDERS
Hyundai Shell Mobis World Rally Team: With five Rally Italia Sardegna victories, Hyundai is the event's form make but has yet to triumph in the WRC this season. Its trio of drivers – Esapekka Lappi, Thierry Neuville and Dani Sordo – will be aiming to put that right on round six of the season.
M-Sport Ford World Rally Team: Ott Tänak scored his maiden WRC victory in Sardinia in 2017 and the Estonian also triumphed last season. Sardinia is the setting of Pierre-Louis Loubet's best WRC finish to date, a feat he achieved in 2022.
Toyota Gazoo Racing WRT: Eight-time world champion Sébastien Ogier returns to action alongside Elfyn Evans and championship leader Kalle Rovanperä, last year's WRC title winner. Development driver Takamoto Katsuta switches to the fourth GR Yaris Rally1 Hybrid.
SUPPORTING CATEGORIES
It's tight at the top in FIA WRC2, the category for Rally2 cars, with three points separating the leading three drivers in the provisional standings following Vodafone Rally de Portugal. Yohan Rossel (PH Sport Citroën C3 Rally2) heads the classification by a single point over Oliver Solberg. Gus Greensmith, the class winner in México and Portugal and Solberg's Škoda-powered Toksport team-mate, is third, three points behind Rossel.
Boasting a 39-car entry, interest in WRC2 is much in evidence with 22 nationalities represented and several FIA champions taking part. They include Robert Virves, the Junior WRC champion in 2022 and three-time European title winner Kajetan Kajetanowicz. Emil Lindholm, last season's WRC2 champion, will also be competing but has not nominated Rally Italia Sardegna as one of his WRC2 scoring rounds.
M-Sport Ford Fiesta Rally2 driver Adrien Fourmaux, Hyundai Motorsport N's Teemu Suninen (Hyundai i20 N Rally2) and joint WRC2 Challenger leader Nikolay Gryazin are also among the contenders for victory.
Nine drivers, all competing in Ford Fiesta Rally3 cars, are eligible for WRC3 points. Among them is Roope Korhonen, the provisional points leader, plus Ali Türkkan who is making his WRC debut having represented Turkey in the FIA Motorsport Games last October.
William Creighton (Motorsport Ireland Rally Academy) heads the eight-car FIA Junior WRC entry, the category for Ford Fiesta Rally3s run by M-Sport Poland on Pirelli tyres. He heads Frenchman Laurent Pellier by 21 points and Paraguay's Diego Dominguez by 23 points respectively after two rounds in Sweden and Croatia.
Sardinia-based Francesco Marrone is also worthy of special mention having started all 19 editions of Rally Italia Sardegna held so far, while 2022 WRC Masters Cup winner Mauro Miele will be in action.
MEDIA INFORMATION
Media accreditation
Media accreditation must be collected in person by accredited pass holders from the Accreditation Desk, Rally HQ, SS125, km 1, 07026 Olbia, Sardinia. GPS: 40°56'46.8"N 9°30'13.1"E. The Accreditation Desk is open as follows:
Tuesday May 30: 14:00-20:00 hrs
Wednesday May 31: 08:00-20:00 hrs
Thursday June 1: 07:00-20:00 hrs
Friday June 2: 07:00-14:00 hrs
Media Centre
The Media Centre is located at the Museo Archeologico, 07026 Olbia, Sardinia and open as follows:
Tuesday May 30: 14:00-20:00 hrs
Wednesday May 31: 08:00-20:00 hrs
Thursday June 1: 07:00-22:00 hrs
Friday June 2: 07:00-23:00 hrs
Saturday June 3: 07:00-23:00 hrs
Sunday June 4: 07:00-23:00 hrs
Media activities and opportunities
| | |
| --- | --- |
| Wednesday May 31 | |
| | |
| 17:00 – 17:30 hrs: | Mandatory Tabard Media Safety Briefing (Media Centre) |
| 17:30 – 19:30 hrs: | Team media functions (in team service areas*): |
| -17:30: | Hyundai Shell Mobis WRT |
| -18:15: | Toyota Gazoo Racing WRT |
| -19:00: | M-Sport Ford WRT (*Sparco stand in the Molo Brin Service Park) |
| 19:45 hrs: | WRC official driver photograph followed by Rally Italia Sardegna 20th anniversary photograph (behind the Museo Archeologico) |
| | |
| Thursday June 1 | |
| | |
| 09:01 – 11:00 hrs: | Shakedown for P1 and invited competitors (Loiri Porto San Paolo, 2.87 km) |
| 11:01 – 13:00 hrs: | Shakedown for P1, P2, P3 and P4 drivers (Loiri Porto San Paolo, 2.87 km) |
| 12:00 hrs: | Meet the Crews with top three drivers from SD (Molo Brin Service Park) |
| 12:30 hrs: | FIA Pre-event Press Conference (Media Centre) |
| 13:01 – 14:00 hrs: | Shakedown for Non-priority drivers (Loiri Porto San Paolo, 2.87 km) |
| 13:05 hrs: | FIA Rally Star Press Conference (Media Centre) |
| 16:45 – 17:15 hrs: | Autograph Session with invited drivers (Molo Brin Service Park) |
| 18:02 hrs: | Start of Section 1 (Olbia – Via Escrivà) |
| | |
| Friday June 2 | |
| | |
| 07:40 hrs: | Start of Section 2 (Olbia Molo Brin) |
| 18:45 hrs (approx..): | Meet the Crews with team principals and top 3 drivers (Service Park) |
| | |
| Saturday June 3 | |
| | |
| 06:50 hrs: | Start of Section 4 (Olbia Molo Brin) |
| 21:00 hrs (approx): | Meet the Crews session with team principals and top 3 drivers (Service Park) |
| | |
| Sunday June 4 | |
| | |
| 07:00 hrs: | Start of Section 6 (Olbia Molo Brin) |
| 15:00 hrs: | Prize-giving ceremony (Olbia – Piazza Crispi) |
| 16:00 hrs: | FIA Post-event Press Conference (Media Centre) |
Media zones
Media Zones attended by all drivers and selected team representatives will operate in the Media Zone area as follows: TC1A, 4A, 7A, 11A, 15A, 17A, 19A.
FIA Press Conference attendance and schedule
Pre-event (Media Centre), Thursday June 1
12:30 hrs – Part 1, FIA WRC2, Non-priority and special guest
WRC2: Oliver Solbeg (SWE), Škoda Fabia RS Rally2
Non-priority: Francesco Marrone (ITA), Peugeot 208 T16
Special guest: Petter Solberg (NOR), inaugural Rally Italia Sardegna winner
12:40 hrs – Part 2, FIA WRC2 Challenger, FIA WRC3/FIA Junior WRC, FIA WRC Masters Cup
WRC2 Challenger: Giuseppe Dettori (ITA), Škoda Fabia
WRC3/Junior WRC: Hamza Anwar (KEN), Ford Fiesta Rally3
WRC Masters: Mauro Miele (ITA): Škoda Fabia RS Rally2
12:50 hrs – Part 3, FIA WRC
Toyota Gazoo Racing WRT – Sébastien Ogier (FRA), Toyota GR Yaris Rally1 Hybrid
Hyundai Shell Mobis World Rally Team – Thierry Neuville (BEL), Hyundai i20 N Rally1 Hybrid
M-Sport Ford World Rally Team – Pierre-Louis Loubet (FRA), Ford Puma Rally1 Hybrid
Post-event (Media Centre), 16:00 hrs, Sunday June 4
Top 3 in overall classification
Representative of winning manufacturer
Winning WRC2 drivers (WRC2, WRC2 Challenger)
Winning WRC3 driver
Winning Junior WRC3 driver
Winning WRC Masters driver
RALLY ITALIA SARDEGNA MANUFACTURER ENTRIES
| | |
| --- | --- |
| Toyota Gazoo Racing WRT | Kalle Rovanperä (FIN)/Jonne Halttunen (FIN) – #69 |
| | Sébastien Ogier (FRA/Vincent Landais (FRA) – #17 |
| | Elfyn Evans (GBR)/Scott Martin (GBR) – #33 |
| | |
| Hyundai Shell Mobis WRT | Thierry Neuville (BEL)/Martijn Wydaeghe (BEL) – #11 |
| | Esapekka Lappi (FIN)/Janne Ferm (FIN) – #4 |
| | Dani Sordo (ESP)/Cándido Carrera (ESP) – #6 |
| | |
| M-Sport Ford WRT | Ott Tänak (EST)/Martin Järveoja (EST) – #8 |
| | Pierre-Louis Loubet (FRA)/Nicolas Gilsoul (BEL) – #7 |
FIA WORLD RALLY CHAMPIONSHIP 2022 CLASSIFICATION
The provisional classifications following round 5 of the 2023 FIA World Rally Championship are available here: https://www.fia.com/events/world-rally-championship/season-2023/standings
RALLY ITALIA SARDEGNA 2022 RESULTS
| | | | |
| --- | --- | --- | --- |
| 1 | O Tänak (EST)/M Järveoja (EST) | Hyundai i20 N Rally1 | 3h10m59.1s |
| 2 | C Breen (IRL)/P Nagle (IRL) | Ford Puma Rally1 | +1m03.2s |
| 3 | D Sordo (ESP)/C Carrera (ESP) | Hyundai i20 N Rally1 | +1m33.0s |
RALLY ITALIA SARDEGNA RECENT WINNERS
| | | |
| --- | --- | --- |
| 2022 | Ott Tänak (EST)/Martin Järveoja (EST) | Hyundai i20 N Rally 1 |
| 2021 | Sébastien Ogier (FRA)/Julien Ingrassia (FRA) | Toyota Yaris WRC |
| 2020 | Dani Sordo (ESP)/Carlos del Barrio (ESP) | Hyundai i20 Coupe WRC |
| 2019 | Dani Sordo (ESP)/Carlos del Barrio (ESP) | Hyundai i20 Coupe WRC |
| 2018 | Thierry Neuville (BEL)/Nicolas Gilsoul (BEL) | Hyundai i20 Coupe WRC |
Fuente: www.fia.com