RX2e: Raül Ferré – Andorra's rising rallycross star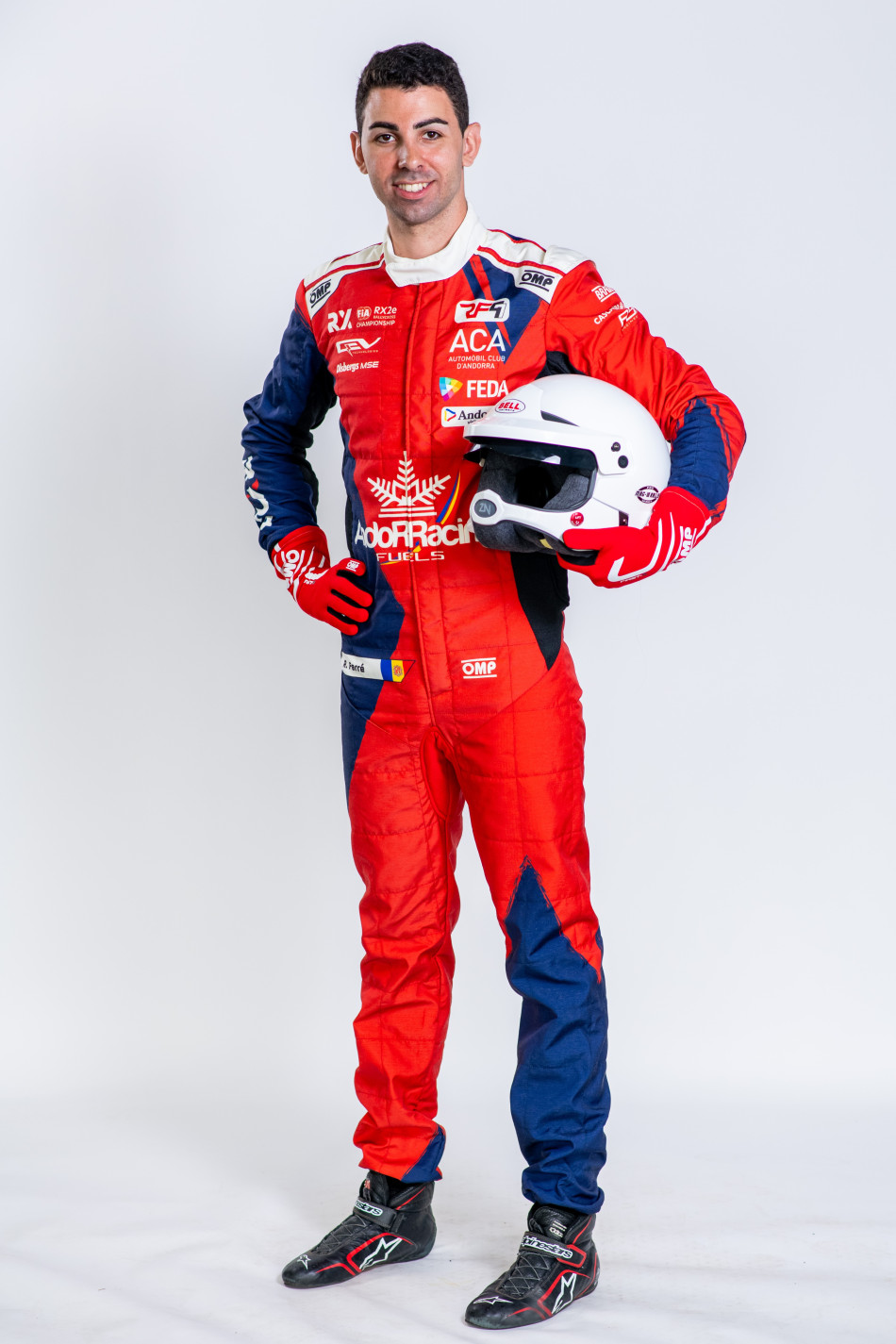 With targets designed not to put too much pressure too soon on the 24-year-old's shoulders, Ferré has responded with early results that have exceeded his, the Automobile Andorran Club's and his sponsor's expectations.
Despite only having raced on asphalt and ice before, Ferré made an impressive RX2e debut at Höljes Motorstadion, finishing second in his Semi Final and fourth in the Final.
And like all FIA Euro RX venues he'll visit this year, it was the first time that he'd raced at the famous Swedish track.
"Everywhere we go this year is a new adventure and we always have new challenges in terms of set-up and learning the track," says Ferré.
He's clearly a very quick learner; at Round 2 in Hell in Norway, Ferré once again qualified for the Final and once again finished fourth.
Ferré made his competition debut in 2018, contesting hillclimbs in a Speed Car. It wasn't long before he scored his first podium finish, and his talent was quickly noticed by the ACA and he was invited to join its Young Drivers' Training Programme.
The programme immediately helped his career and he became GSeries Andorra Car Cross champion, and finished runner-up in the Hillclimb Mountain Championship in Catalunya, in 2019.
In 2020 he won the Catalan Mountain Championship outright and became Hillclimb Promotion champion in the Spanish Mountain Championship – while in 2021 he finished runner-up in the Spanish Hillclimb Championship, winning the Absolute category.
As well as continuing to compete in hillclimbs as an official Silver Car driver, Ferré will contest the full 2022 FIA RX2e Rallycross Championship as part of a long-term rallycross programme.
And in addition to the new tracks and different surfaces, the RX2e cars – all identical four-wheel drive, all-electric machines which generate 250kW (335bhp) of power and up to 510Nm torque – are new, as well as the ultra-close racing.
"Rallycross is completely new to me – before this year I have only raced on asphalt and on ice. I have some experience on a slippery surface, but I have never previously raced on gravel," says Ferré.
"And of course these electric RX2e cars are completely different to anything I have driven before as well.
"Each time I drive the RX2e car I have a better feeling. In the warm-up I am alone on the track and comfortable – but in the races we can have some small contact with other drivers and this is completely new for me also.
"The first corner in rallycross is always very difficult because you can exit the corner in any position from P1 to P5 and then you must alter the race strategy very quickly. It's difficult for my spotter and for me. We also have the push to pass, which is important to use in the correct section of the track, and then the joker lap. There are a lot of decisions that you have to make very quickly to score a good result in RX2e.
"One of our targets this year was to make the Final, and we already did that in Höljes and Hell. Now we'd like to finish a Final in a podium position before the end of the season.
"This year I am here to learn to race in rallycross and my federation and my sponsors don't push me too much with big expectations.
"We have made a good start, better than we expected, but this season is to learn, next season is to win."
Fuente: www.fia.com