Taylor Gill can dream of a WRC future after winning India's FIA Rally Star Asia – Pacific Final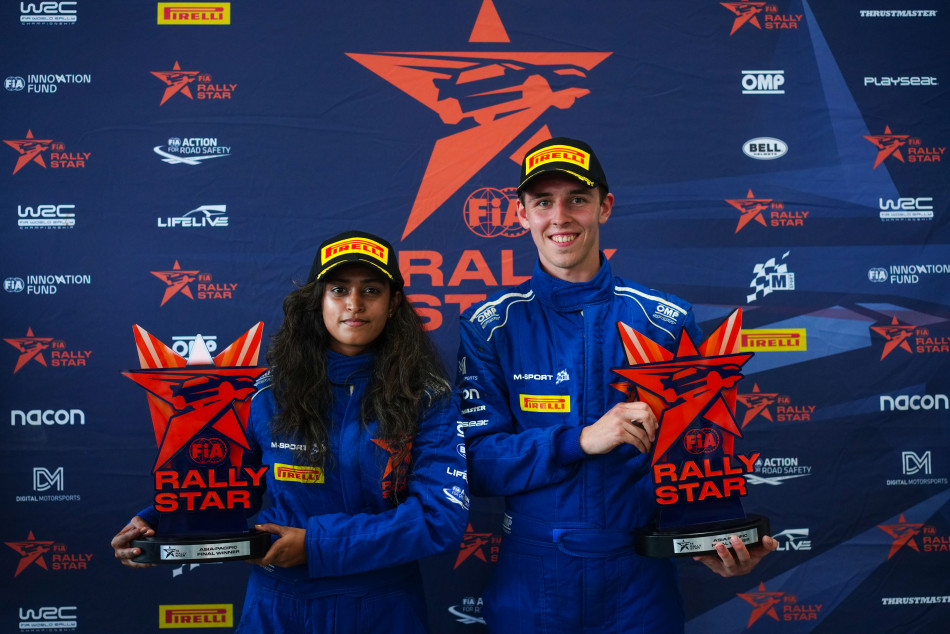 Taylor Gill, 18, from Australia, was one of 40 participants representing seven ASNs to assemble at the Madras International Circuit in India on Monday morning for three days of intense competition and assessment with the goal to win a place in the FIA Rally Star Training Season in 2023.
Thirteen drivers, two of whom were female, excelled by progressing to today's final in Chennai, which included a rigorous physical test, followed by the opportunity to showcase their skills behind the wheel of a Pirelli-equipped TN5 Cross Car from FIA World Rally Championship driver Thierry Neuville's LifeLive organisation.
After taking to a 3.7-kilometre stage featuring gravel and asphalt sections but designed to be much faster than the layouts used on Monday and Tuesday, the drivers took part in a series of reflex tests before being interviewed by the five-person jury consisting of Andrew Wheatley (Chairman) and members Maciej Woda, Pernilla Solberg, David Terrien and Guy Botterill.
Following a period of deliberation, the Jury confirmed Taylor Gill as the FIA Rally Star Asia-Pacific Final winner, while Pragathi Gowda was selected as the Asia-Pacific region's representative in the FIA Rally Star Women's Final, details of which will be announced at a later date.
As well as the honour and achievement of winning the FIA Rally Star Asia-Pacific Final against very strong competition, Taylor Gill will represent his region in the 2023 FIA Rally Star Training Season.
In addition to six rallies in an M-Sport Ford Fiesta Rally3, the FIA Rally Star Training Season package includes physical and intellectual assessment, driver coaching and testing. The aim is to equip the successful contestants with the attributes they need as they attempt to secure a drive in the FIA World Rally Championship in the future. Indeed, the four best-performing drivers in the FIA Rally Star Training season will win an FIA Junior WRC Championship drive in 2024, the first step on the ladder to the top-level, hybrid-based Rally1 category.
Taylor Gill is the fourth FIA Rally Star Continental Final winner and follows Romet Jürgenson, the European Final winner from Estonia, Abdullah Al Tawqi, who won the MENA Final representing Oman and Max Smart (South Africa), the winner of the African Final.
Maja Hallén Fellenius (Sweden) and Katie Milner (United Kingdom) were the first to qualify for the Women's Final following their performances in the European Final, while Farah Zakaria from Jordan qualified from the FIA Rally Star MENA Final with Kristie Ellis (South Africa) making it through from the African Final. Pragathi Gowda (India) joins the club of female winners, as they will prepare for the women's grand finale in a few months' time.
The South and North America Continental Finals will take place early next year with the two winners of these events joining the other Continental Final winners – plus the Women's Final winner – for the first FIA Rally Star Training Season in 2023.
---
Taylor Gill, 18, from Australia, FIA Rally Star Asia-Pacific Final winner: "You might have to give me ten minutes to put this into words! It's pretty cool, obviously everyone goes for it, but you don't expect to get it, so I'm over the moon!
For sure, there was a lot of pressure, especially to go out and do another run today, I couldn't make any mistakes, that's what I tried to do, so I'm super happy!"
Pragathi Gowda, 25, from India, FIA Rally Star Asia-Pacific Final winner: "I'm very surprised, I didn't think I would make it through because there were strong girls out there. But I told myself, that no matter what happens, I'm not going to give up and I'm going to do my best. Luckily it worked, I'm very happy to be here, a big thank you to the FIA Rally Star for organizing this in my country, as I think it's better, you are more confident, and I think that's why I'm here.
I got to prepare myself for that [FIA Rally Star Women's Final], I'm looking forward to it and I'm going to do my best, let's see what happens and hope for the best."
Andrew Wheatley, FIA Rally Director & Jury Chairman: "It was a fantastic combination of enthusiasm and performance. We have seen incredible drives from the competitors. We have got winners, but we have also seen amazing drivers, who supported the winners and will go on to also compete themselves at a high level internationally around the world.
I think we have seen a good combination of people who have come with experience in rally and also grassroots level. But we have also seen people coming with pure esport background, and they equally been able to go toe-to-toe in these difficult conditions and cars to drive and to be able to show their skills and shine."
David Terrien, Jury Member & Karting World Champion: "It's not just a time trial, we are looking for a complete racing driver, with a mix of skills, preparation, how able they are to learn and implement some tips they will be given. It's also about physical preparation and reflex.
We also do interviews with them, to know about their motivation, background, and how much knowledge they have about motor sport. Some drivers have experience some do not and that is also taken into consideration if we have a driver with no experience and performing very well."
Guy Botterill, Jury Member & South African Rally Champion: "The level of the drivers was amazing! The level of the esport drivers and the women were incredible, they were really strong. Having such a mix of cultures, and countries, was also great, and putting them all together and seeing their times was impressive. Everyone had an immense passion, and they need to grow the sport in their country. I know there is a winner and a loser, they are all thinking about their projects in the future when they will go home to improve, but I think motor sport is the overall winner.
This week, the conditions were very tough. We had extreme heat, it was rainy, muddy and dusty, so the drivers that qualified to go through the days and the winners have done an exceptional job. It was a good experience for everybody because that is what rally is all about, it was a good test, and it was incredibly difficult with the layouts that were designed to be tough. The organisers of the event did a really good job in making it difficult because there is no point in an event like this to have roads that are too easy."
Akbar Ebrahim, President of the Federation of Motor Sports Clubs of India (FMSCI): "It was a great opportunity for them, as they never had the chance to try such equipment like this and to participate in this kind of program. Looking at the pyramid that has been built and the aspiration, I think it was a wonderful opportunity for them and they really enjoyed it. The gaps were big when they started but as they got acclimatized, the level improved and that was satisfying.
For sure, using a cross car as a grassroot level for developing potentially rally talents, is a fantastic concept."
Fuente: www.fia.com