WRC – RallyRACC Catalunya – Pre-event Press Conference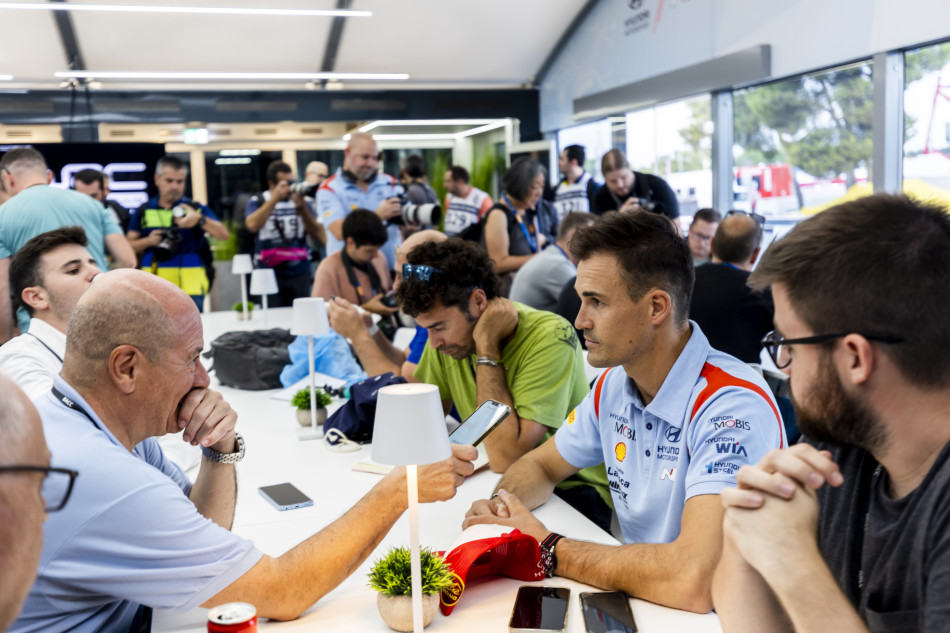 FIA WORLD RALLY CHAMPIONSHIP
Present:
Hyundai Shell Mobis WRT – Dani Sordo (ESP), Hyundai i20 N Rally1 Hybrid
M-Sport Ford WRT – Craig Breen (IRL) and Paul Nagle (IRL), Ford Puma Rally1 Hybrid
Toyota Gazoo Racing WRT – Sébastien Ogier (FRA), Toyota GR Yaris Rally1 Hybrid
Q:
Paul, RallyRACC marked your first foray into the WRC in 2004 and now it hails the close of an illustrious career reading the notes. Firstly, why did you choose to put away the pencil now and how does it feel embarking on the final event?
PN:
Hmm, I suppose you have to retire at some stage in your rallying career and 2022 was the year for me. I have been at it now 18 years at the top level of the sport more or less and the workload involved in 14 rounds next year and a long time away from the family. The commitment and work load is phenomenal. I had a great run. I suppose like all careers, with some ups and downs. I needed to work this out on my own terms. It has been my own decision and I have always had doubts about it. I will miss the sport and the company and miss my friends in the World Championship.
Q:
If you could pick out one memory, something that really stands out, what would it be?
PN:
There have been loads. The first championship win in Alsace but the podium this year in Monte-Carlo with myself and Craig.. But the one event that stands out is the win with Kris (Meeke) in Finland. We needed to beat Jari-Matti (Latvala) and the Volkswagens that weekend. It was a special weekend compared to the rest.
Q:
Five victories, 102 events including this one and 25 WRC events with Criag Breen – did you ever imagine that your career in co-driving would be as successful as it has been?
PN:
It's been easy enough between 2009 being with Kris or Craig and then with Andreas, I spend a lot of time with these two boys. When everything came tumbling down, Craig picked me off the ground to go back to rallying in Ireland and to get back to the podium with Hyundai was fantastic. I've had a couple of jump starts in my career and I've come up the right side.
Q:
What advice would you give your younger counterparts?
PN:
There are plenty of opportunities out there if they are prepared to work and put in the graft when wearing the fancy race suits and fancy helmets. When you are racing at this level, the opportunities do come up and you start the hard work. Co-drivers have a better chance of getting work than drivers. English-speaking co-drivers are few and far between.
Q:
I know we have been talking about retirement but will you pop back next year? Will there be anything to tempt you back or is that it?
PN:
That's a loaded question. Never say never…but, currently, I would say it's the end. You never know. Seb's (Ogier) semi-retired. If something came up, it would have to be something extraordinary.
Q:
Craig, last event with the man from Kerry alongside you. How are you feeling about the changing of the guard?
CB:
If we keep talking about him, his head will swell up and he won't be able to put the helmet on tomorrow. No, obviously, it's very strange and still doesn't feel quite real. It won't feel real until Japan and I suddenly have a different voice in my ears. It's been fantastic apart from everything on the sporting side and all the results and all the rallies and what not. Just the craic… Irish humour is a very special and unique kind of humour and, when you find your partner in crime who operated on the same level, then you know it just ends up as a barrel of laughs. All the events, all the travelling and the time you spend together, it's been the most amazing time together. Just want to work well together this weekend and enjoy the rally. It's been a fairly awful last six or eight months and we just want to do the best job we can this weekend. It would be great to finish the partnership on a high note. It will definitely not be the last time we are in a car together. I have so many extra-curricular rallies that I squeeze in here, there and everywhere. He doesn't have a choice in the matter. I'm looking forward to them.
Q:
James Fulton takes over in Japan, why did you select him as your new co-driver?
CB:
It's always a difficult decision, especially to try and replace someone like Paul. James is someone I have known from a good few years' back when I was doing the Irish Tarmac Championship. If I am being completely honest, his vision was not that strong to get an opportunity in the World Rally Championship. But we saw what he was doing with young Josh in WRC2. Then he came and helped us out on a couple of the events. In the middle of the year he came to Safari and one or two others. I put him in the car for one or two tests and I have to say I was really impressed with him. It's not easy. Looking to the rally that is ahead of us in Japan, that will definitely be a baptism of fire. But he's putting the work in and has dedication and is committed/ and Paul has been keeping him on his toes. It will be strange for the first time in Japan. But that's the future.
Q:
You mentioned it has been a rough couple of months. How are you feeling right now and what is going on with you for next year?
CB:
Same as this year. It was a two-year contract at the beginning and it's quite stable what is happening next year. Obviously, results need to be better. That kind of goes without saying. It's been a very problematic couple of months on the rallies. There's no big changes needed on the approach It's easy to say that. The results have been the opposite of what we want. We just want to get through this weekend and get some momentum back into the game.
Q:
Dani, nine times on the podium here at your home event after 19 appearances. Pretty impressive statistics! One stat is missing and that is the overall win. Is that source of frustration one that can be rectified this weekend?
DS:
I need to feel bad for these numbers. I am not young. Of course, this is my home rally so making a start is normal. I like to win already the rally but it has never happened. I will try and continue to try. For sure, everybody is fighting for the victory and now I think even more because we already have a rally champion and every driver will be going to push to try and take a win. We have very good drivers.
Q:
What is the 'Dani Sordo' plan for next season? Are you still keen for a partial season or do you want more?
DS:
I take this decision before, why I will change? I don't do this only for the money, if you do only rally for money you don't have the passion. If you don't have this feeling to be competitive with these guys, you need to stop. If I do next year, I don't know yet, honestly four events, it is quite difficult sometimes. We have many things we need to find and we have other problems (to solve) first.
Q:
Seb, three-time winner of this event, how much of challenge does this event offer to a driver? Will we see you with a full programme next year?
SO:
I will not answer the same question as Dani. The answer is pretty clear I am really enjoying what I have now. Maybe we could have a championship for the half-time driver… Six rallies this year and that was my choice. Why change that? I must be happy with that. I really enjoyed this year and coming back in the car I also enjoyed the free time. There are some moments that have no price seeing the little one growing. I am happy right now. I love the sport but I am not prepared to be so much away and all this involvement that is required if you want to fight for the championship. Right now, it should carry on in a similar way,
Q:
We have some new stages. What are they like?
SO:
A bit more (cutting) than we normally see in Spain, especially with the weather which is not clear at the moment. It might be a difficult day tomorrow, starting seven on the road. On the other hand, I feel more relaxed this year and I have no championship to fight for. Of course, there is still the Manufacturers' in play and I feel we are in a comfortable position I certainly hope that we can consider that soon for the team. I am preparing to take some more risks to go for it and that will probably be needed tomorrow with our start position.
Q:
Toyota got it right with tyre choice for shakedown this morning. Are we expecting some tricky tyre calls this weekend? What are you hearing about the weather forecast?
SO:
At shakedown it was pretty clear that soft tyres were the best. Every other team decided to save the softs for the weekends. We had a feeling. Tomorrow may not be a straightforward choice. For sure, it is going to be the key of the performance, like always. Hopefully we make the right call and start fighting straight sway.
FIA WRC2 CHAMPIONSHIP
Present:
PH Sport – Yohan Rossel (FRA), Citroën C3 Rally2
Pepe López (ESP), Hyundai i20 N Rally2
Stéphane Sarrazin (FRA), Volkswagen Polo GTI R5
Jan Solans (ESP), Citroën C3 Rally2
Q:
Yohan, your first time competing at RallyRACC. What have you thought of the roads here?
YR:
It's my first time here. It's crazy. It's just next to my home. We will see. For the championship it is dead. The plan is to just to enjoy and push very hard. The roads are completely new for everybody on the first day and I think it is not bad for me. The car is very strong. We will see. I have a lot of experience on Tarmac and I hope I can do it.
Q:
Looking back at the championship season, how do you assess it?
YR:
I am happy. The speed is here all the time on gravel and Tarmac. And that is the most important. But, for the championship, It's a shame but when you have the other drivers and you have Kenya and Japan it is complicated to fight for the championship. We will see for next year, The plan is to improve my driving and experience and we will see. I hope to get a good result here and we will see for the next year.
Q:
What are the plans for next year?
YR:
The plan is to continue to improve. I don't think it is possible to go into WRC. The plan is to continue in WRC2 with a good team and a good engineer. I think this is the most important.
Q:
Stéphane, great to see you back in the WRC. I think everyone remembers your result here fondly from 2004. What made you decide to come to Spain?
SS:
My team in France is very busy with many drivers and we have a very good car. I didn't make a rally since last year. I didn't manage to do one recently and Catalunya was the last one and they said, ''let's go'. It was a great opportunity for me to be here,
Q:
This is the only event that you have done this year. Are you feeling fresh and ready?
SS:
One year since Rally du Var and in the World Championship it was Monte-Carlo three years ago. I will go step-by-step. I want to enjoy. We made some tests before the rally, about 100km of testing. But I have a good car and I need to push.
Q:
You have done this event over a 20-year period. The stages have changed a little. We have some new stages. There has been some cutting and the roads could be pretty dirty., What are your thoughts?
SS:
For sure, they were good stages for us a long time ago. I don't recognise them. It was too far back for me. I start 27 on the road. That is not the best position but that's because I didn't do any events and that is all.
Q:
Pepe, it's been a successful year competing in Spain for you and your home WRC event marks the first championship event of the season. The WRC2 line- up is strong, what is the plan this weekend?
PL:
This year we were competing in the Spanish Championship. We have a new team and we are looking forward to this rally. It is our home event in the WRC calendar and we are really motivated to get a result.
Q:
Does that bring a little extra pressure?
PL:
Well, of course, we have an experience of this category, but it's more my impression of myself. I really want to do well in this championship and arrive at the best moment of the season. I have the confidence.
Q:
What did you think about the new stages we will see on Friday morning?
PL:
As my colleagues said, they are really fast. That's good for everybody. You have to take care of the cars in the fast areas and that will be important for the times. We will try and go through the first day and be consistent on the second day.
Q:
Success in Spain this year. What about next year?
PL:
The target is to be in the championship as we won in Spain two times. The normal step is to plan to be in WRC2. It is difficult. It is really expensive to have the budget. Of course, we are working with the brand (Hyundai) to target this to keep improving.
Q:
Jan, your home event is the only event you have competed on this year. What have you been doing to prepare for this?
JS:
No, we were in Sardinia and we achieved second place in WRC2. This is a rally I really like. But, as you said, on Tarmac no event in WRC and only one event in Spain and it was raining. So, I have done very few kilometres on Tarmac this year. We need to improve our pace.
Q:
Your brother Nil had an accident during testing which has forced him to withdraw from the event. How is he?
JS:
He's more or less okay. On Monday, we had a test and I was behind him on the road and on the last corner he had a big crash into a tree in a fast place and hurt his back. Two vertebrae are broken. He needs to rest for quite a long time but he will be back as strong as ever.
Q:
What is the plan for the weekend?
JS:
A lot of guys push quite a lot. Our main target is to be consistent and improve in every stage. We know that these stages will be new for everyone. Saturday and Sunday, we know the stages and they have been done for a lot of years. It is more relaxing. On Friday, we will need to be more focused. The weather is quite crazy. We didn't know what it should be like on shakedown. It was full wet and hard tyres were not the best option. We were all thinking of the rally.
FIA WRC3 CHAMPIONSHIP/NON-PRIORITY
Present:
Diego Dominguez (PRY), Ford Fiesta Rally3
Lauri Joona (FIN), Ford Fiesta Rally3
Victor Cartier (FRA), Toyota Yaris Rally2 Kit
Q:
Lauri, it's the big battle for WRC3 title honours this weekend. How are you feeling ahead of it?
LJ:
Yes, of course, I really feel excited. I know it's my second time in Rally3 on Tarmac. I am not familiar with this surface. I think on this rally, by Saturday and Sunday, we will be really pushing, but maybe we need to take less risks.
Q:
Have you been doing anything special to prepare for this weekend?
LJ:
Actually we tried two days of testing before the rally. Usually we try only one day. For this event we tested for two days. We get more experience from the past when we tried Juniors.
Q:
They are tough stages out there. What day stands out for you?
LJ:
I think Friday will be really challenging because there are some new stages for me. I drive here last year also, so I know quite good Saturday and Sunday stages.
Q:
What would it mean if you could win the title this weekend and become WRC3 champion. How much would that help you?
LJ:
Of course, it helps a little bit. I know I can't say too much because we need to drive the rally before, Let's see after the rally.
Q:
Diego, you took your first WRC3 win in Greece in September. Are your feet back on the ground? How confident are you feeling of a repeat performance on Tarmac?
DD:
More or less. To be honest I did everything I could to prepare. I watched videos on the stages. It's going to be quite tough because it's my first Tarmac event, I hope to be here again on Sunday.
Q:
You've been here once previously. What are your thoughts on the stages?
DD:
It's going to be quite tricky. The WRC drivers make massive cuts on the corners and that will be quite tough for us. I don't think it's a case of confidence. It's a case of being so far back on the road.
Q:
What is your plan for 2023?
DD:
Nothing yet but I hope to be back in the WRC again.
Q:
Victor, it's been a busy season in France and as part of the ERC this year. This will be only your second ever WRC event and your first time here. What have you thought of the stages and the challenge that this event offers?
VC:
Yes, we spent two seasons in ERC at the international level. That's now done and it's time to continue and to progress and, to do that, we need to do WRC. This event, we wanted to reach ERC first but thought why not WRC? It's my first WRC in a four-wheel drive car. And I hope for next year to continue.
Q:
Victor, this is a rally kit car you are competing in. What is that?
VC:
To be simple, it's a Rally2 with a race programme – engine, gearbox, driveshafts and sub-frame. It's a long time already we have no set-up, nothing. We do everything ourselves. We need to develop a lot.
Q:
You must be working on the car all hours to get it where you want?
VC:
Sometimes it is difficult to relax because it is my car. I know every screw on the car. It is sometimes difficult to clear my mind to focus on my driving.
Q:
What are your plans for next year?
VC:
At the moment nothing. If we do the WRC the same way we need to learn the project.
Fuente: www.fia.com