WRC – FORUM8 Rally Japan- Pre-Event Press Conference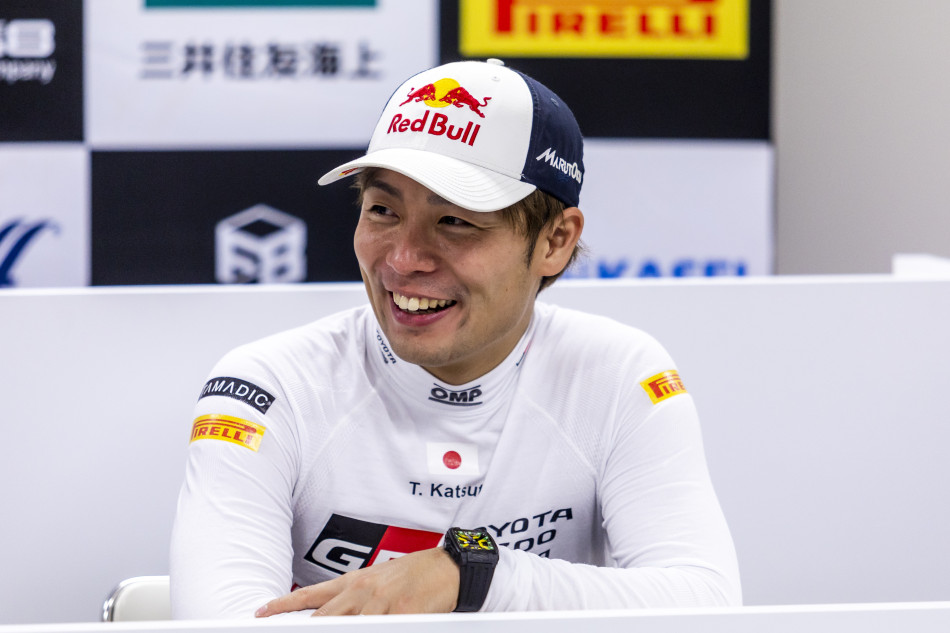 FIA WORLD RALLY CHAMPIONSHIP
Present:
Toyota Gazoo Racing WRT – Takamoto Katsuta (JPN), Toyota GR Yaris Rally1 Hybrid
Toyota Gazoo Racing WRT – Vincent Landais (FRA), Toyota GR Yaris Rally1 Hybrid
Hyundai Shell Mobis WRT – Ott Tänak (EST), Hyundai i20 N Rally1 Hybrid
M-Sport Ford WRT – Gus Greensmith (GBR), Ford Puma Rally1 Hybrid
Pirelli – Terenzio Testoni (ITA), Rally Activity Manager
Q:
Welcome to all. Taka. Let's start with you, shall we? Got a big smile on your face. It's your home event here. Rally Japan WRC you waited all season for this, you waited a couple of years for this to happen. How are you feeling right now? Now that the WRC is fully in town and you're ready to go, is there a few nerves ahead of a big event for you?
TK:
Yeah, of course. I feel a little bit nervous, but more excited actually. I mean many fans already I have seen on those sections on the way to the shakedown. So, this is very nice to see all of them and they are waiting more than 10 years. So finally, we are here and really happy. Happy for them also.
Q:
Yeah, absolutely. 2010 the last time we saw Rally Japan, of course, within the WRC. You talked about the fans. We we've seen a lot of your fans around the service area, around the city. They're wearing your face on their heads. They're crazy for you, which is, which is a good thing. But does that put extra pressure on your shoulders this weekend Taka? Do you feel the expectation to perform for them?
TK:
Yeah, for sure some more pressure than any other areas, but this is normal, and I like pressure, so always nice to be pressured without you know, compared to result Like you can, you can more enjoy and always it's nicer. So let's say that going to be quite special, but I'll try to manage it.
Q:
It's going to be a challenge out there this weekend, that's for sure. Talk to me about the difficulty level of this rally. How tough is it going to be for the drivers and co drivers?
TK:
Yeah, obviously everybody's seen already that uh stages are very, very different than European ones, so it's more twisty and narrower and not so many cuttings, but there is some dry and things. So yeah, you need a little bit of a different type of the maybe smoother driving or I don't know how to drive yet. We need to do something different set up wise as well. So, let's see. It's quite difficult to say after shakedown because type of the space is totally different compared to tomorrow's proper stages. So yeah, we need to see how it's going on stage two then we can see who matches this kind of Japanese road.
Q:
And what is the target for you this weekend? You're targeting a podium.
TK:
Yes, yes, this is at my target.
Q:
Can you say a few words in Japanese as well for our Japanese journalists? Can you just sum up how you're feeling about the weekend?
TK:
Yes. Uh, hi. Uh. Sorry, it's really mixing now. I'm really excited we're finally here. Not only me, but many fans have been waiting for Rally Japan to finally take place after years of waiting. I will do whatever I can to perform well here at Rally Japan, and I want to repay everyone who has been waiting for me with a good result. I will just concentrate on doing my best. If I perform well, good results will follow, and if I perform badly, it means I still have a lot of work to do. So no matter what the result is, I want to make the most of what I experienced here in Rally Japan.
Q:
Taka. Thank you very much. Mr. Tanak. Let's turn to you now. Don't worry, I'm not going to ask you to answer in Japanese. Let's talk about next year, shall we? That's an easier question. Rally Spain, Friday night, we not Friday night, Sunday night. That would have been a handle bit too early. We all got the news that you would be ending your WRC career with Hyundai this season. What was the reason why and where are we going next year?
OT:
Altogether the reasons behind were many or let's say all of them together. So it's. Anyway, it's been a long year and it's just yeah that was that was the goal in the end and about next year, honestly I can say I have nothing at the moment. We just have to see what the hell time will bring, and I will. I will check what is what is still available after I fly back from here.
Q:
You still want to compete next year though, yes?
OT:
Many things in my life I'd like to do.
Q:
But if we're just talking about rallying, rallying is not one of them. Do you want a full season in the WRC next year?
OT:
It depends.
Q:
On what? like give me an example share, we're all here for you right now.
OT:
It depends how I feel, you know, if I feel, you know, whatever I'm going to do next year, it gives me a chance to fight for the championship and you know this probably has been something, you know, that I've been missing to be able to fight for the championship and yeah, and we will find out if this opportunity comes or not.
Q:
So that would mean a full season then.
OT:
Without this, it's difficult, maybe as well, I don't know. For some drivers, maybe not.
Q:
Obviously, there are only two teams that you could potentially be talking to. And the biggest rumor is that you're heading to M-Sport and you mentioned in your press release that you were looking for a new challenge. Is that the challenge?
OT:
I mean, we've been, we've been in the rally for a long, long time. And I mean it, it doesn't really matter in in which team you are, you know? Winning a World Championship title is always a challenge. It's never an easy job.
Q:
When will we know? When will you know?
OT:
If we want to do it in a full season, then we need to know before month.
Q:
Should we move on to some easier questions?
OT:
For me they are easy enough, there's no worries.
Q:
Talk to me about your thoughts as soon as you recced the stages here. Were they as you expected? I know you would have had access to videos and being able to have a look at them, but from what some drivers have told me, they were in rainy, foggy conditions so they weren't maybe the best to have a look at. Were you surprised by the difficulty level here?
OT:
They are definitely. Incredibly demanding. I would say, yeah, I've been driving in Corsica some other rallies opinions and Sanremo and you know which we call kind of technical in Europe, but this, this one here is another level , also quite many sections or even some stages seem to be on roads where they don't have so much traffic so you know, the grip level seems to be a bit unknown as well, and I mean other than that I I may be more grown up in or on fast roads. So in my notes I don't really have so many different categories in these low speed corners. So it was definitely challenging.
Q:
Ott. Thank you very much. We're going to turn to a potential teammate for you next year, Gus Greensmith. Gus how you doing?
GG:
Good. I'm all good.
Q:
Yeah, excellent. Tell me about your thoughts on the stages here. You know, from what point has just mentioned, it does sound like a huge challenge out there this weekend. It is that what you expected to see as narrow as it was with all these ditches, the leaves, the moss, everything thrown in?
GG:
Probably not as challenging as it turned out to be. We knew it was going to be more challenging than anything we've had this year. But for sure this is on another level like Ott said. Very, very long nights on doing the pace notes. I mean, I was halfway through a stage when I had to walk here. So, I'll be going back to go and do another stage. So yeah, it's it's a lot of work, a lot of preparation, but there's so many things that we can do touch and hit and puncture. The risk is really high if you make a small mistake, so yeah, it will be a very difficult rally.
Q:
Looking back across your season this year, what would you take from it as a highlight?
GG:
Winning my first stage was obviously probably the main highlight. I think everyone sort of enjoyed that. So yeah, that was that was great. Monaco was a fantastic rally and yeah, there's been some highs and lows throughout the year, but mostly enjoyable.
Q:
And what is the plan for next season yet do we know?
GG:
I've no idea at the moment.
Q:
What do you want to do next year?
GG:
I would like to do the same.
Q:
So, a complete full season?
OT:
That would be good.
Q:
I know you've all talked about the difficulty level and I've interviewed a lot of you this morning, but if you were to pick out a key stage here this weekend, what would it be?
GG:
The first one tomorrow is very challenging, the longest one. Same on Saturday morning and also the long stage on Sunday. But if we get the rain that we're supposed to, then Sunday is going to be incredibly tricky.
Q:
You mentioned yesterday we were talking about the second stage of the tunnel within it, which has a gravel surface inside. Is it gravel or is it just dirt because we couldn't work it out when we drove it?
GG:
It's kind of broken tarmac, but at the end there's a broken hosepipe so the last 40 meters is wet, so that should be tricky.
Q:
And added complexity. Gus, thank you very much. Let's turn now to Vincent. Always great to have co-drivers in the press conference and a bit of a change for you. You step into the Toyota team alongside now Sebastian Ogier. Tell me, Vincent, how long have you spent in the car with Seb, prior to this event?
VL:
Hey everyone, I spent only one day before Spain to be honest. So then it's a big challenge this weekend.
Q:
It's going to be huge.
VL:
Yeah, but it's going to be OK. I will face it. I will try to do my best as always. So, it should be OK even if it's not perfect then. Because when you work with him, you know why he's like a 8 time world champion or something, you know, because everything is so efficient, so you have to be. I have to adapt myself, very quick and we'll try to do it.
Q:
Do you know, as you mentioned, he's an eight-time world champion. It makes you raise your own level, doesn't it? I guess when you're working with someone like that who demands perfection but maybe not perfection this weekend, that's a lot to ask on such a challenging weekend.
VL:
Yes, of course I know that after this co driver there would be someone else. I mean at least another. OK, I have a package behind me. I mean, because I've done so many rallies, OK? But with that, Pirelli, I know so much that we have built together on this career. So it's like a white sheet on front of me now. I have two building listing again and start from scratch. So but yeah, I know that I will be different after this.
Q:
I'm sure you will be. Talk to me about the complexity of this rally from the co-driving seat and especially given that it is your first weekend. Alongside Seb, how difficult is it for a co-driver here?
VL:
It's quite difficult because. As we know the holes, they are so twisting and narrow, but sometimes it can be so quick and fast. So we have to be really focused on the reason. And also because since we started the recce and the way he's getting the pace, not on the first pass and the way he wants them on the second one, and the way he's correcting the pace notes. Uh, it's still wanting the next one and everything so. It has been a very challenging, but I feel it has been OK to be honest. So at least this is good. Even this morning. And the first one I was like I don't know what to do else than what I did with Pirelli, but it seems like it was OK. So let's try like this tomorrow morning.
Q:
Excellent stuff. Good luck this weekend. Thank you, Terenzio. Let's turn to you now. Let's talk about the season as a whole. First because it's been brand new hybrid technology, which has meant that Pirelli has had to adapt the tyres to the new cars as well. For this year. You've had to make them a bit stronger. You've had to work with the technology and see how it's working with the tyres. When you look across the season, what do you think of the performance?
TT:
Yeah, you're right. Yeah. We started the last year, but for us it was a new season, new cars and then we said OK, the first year will be hard but the second should be OK. But it was not like this because on the second year for us it was again, we started not nearly from zero. but quite close because the car is a quite, quite different from last year in terms of weight of the car. The car is also less aerodynamic. This suspension are different, so we lost for sure a lot of grip, but we put more stress now on the tire. Specially for the for the weight and so in every rally there is something we can learn. And then we never stop to develop the tire. Uh, we are quite confident for next year. We will have any product on gravel or tarmac. We know we don't have a lot of time to do it, but we take all information from each rally to try improving the product and to find the best product to be especially stronger. And, make the driver happy.
Q:
Which is the key thing, right? Talk to me a little bit about this rally in particular because it's the first time for rally Japan on tarmac. It's a brand-new area, everyone is discovering everything new. What have you learnt out there this weekend? What have Pirelli learnt and how? Well, what are the difficulties for the tyres this weekend? Gus mentioned there's quite a few hazards which could damage some tyres out there.
TT:
Because our experience in Japan is, like you said, is on gravel. We came here the first time in 2004, but actually we won the rally with Subaru and Peter Solberg. And then for sure we will, we will win also this year. So, first time on tarmac. We know that the condition of the stage they are quite difficult. The stage are quite different and there's specially the level grip is not very consistent because we have a dry part, we have damp, also some wet. But also, the type of tarmac, they are different, special like the long one, OK, the long one tomorrow, which is the second stage it looks the more abrasive of the rally and the longest stage. So that's for sure will be the stage where we will have a lot of stress on the tire. We will also have a lot of tyre wear for sure. So, we are ready to see how the tyre will be. And then for the driver it will be very difficult like I said before because the grip is quite inconsistent. So, it's going on off many times and for sure for the drivers to also keep the tire in temperature will be very, very difficult. Because you can find everything but also some dirty place. So, we'll be very challenged for sure for the driver to be here the first time, but also, in a positive way is the weather which it looks quite, quite good, so we need also to say for through the weather will help with the driver to be to be easier and on the stage.
Questions from the floor
Yukari Ishikawa,Tokai Radio (JPN)
Q:
Prior to this press conference, I interviewed some fans and many of them said that they were very happy to see such a big event in their hometown. Though they are not even familiar with cars or rallying, they came here because they didn't know when they would be able to see such a big event like this again, and that they were happy to see their hometown hero's drive. Could you give a message to the local fans again?
TK:
As I said earlier, many people were cheering us on in the road section, waving flags and hands. Some of them were decent elderlies who were not familiar with the rally. They just happened to see us on their walk and casually asked "Can I take your picture?" and said "I'm cheering for you!". It may be just a small thing, but those small things make me realise that a lot of people have focused on PR for this rally. I think that making the event even better, not just this year but for years to come, will lead to the development of motorsport in Japan. Anyway, that's what I should be aware of, and it sure motivates me to do better in the sport and let as many people as possible know about rally and me. You have three days to go, and I would be happy if you could support me until the end.
FIA WRC2 CHAMPIONSHIP
Present:
Kajetan Kajetanowitz (POL), Škoda Fabia Evo
Toksport WRT – Emil Lindholm (FIN), Škoda Fabia Evo
Heikki Kovalainen (FIN), Škoda Fabia
Osamu Fukunaga (JPN), Škoda Fabia
Toshi Arai (JPN), Citroën C3
Q:
Emil, since you have taken the middle spot there, we're going to start with you. Big weekend. It's the WRC 2 title decider here in Japan between you, Kaito and, well, a man who's not competing this weekend sat at home watching exactly what you're doing. Talk to me about how you're feeling right now, ahead of a huge challenge here on the tarmac of Japan. Are you ready, Mr. Lindholm?
EL:
I think we are as ready as we can. I mean actually I look back at the season we've done, this will be our third tarmac round and the results on tarmac have been quite OK. I mean, I've heard, I, I did hear some ideas of what the roads might be here. But OK, this is basically they're super twisty. But I mean, we're in this for for the corners, not for the straights, right? So I.. I enjoy the recce.
Q:
There is that famous Colin McRae quote, you know, the fast drivers are on corners. not straights, so well we'll soon find out if that's true this weekend. But it is a big weekend because it's the title decider. Does that give you extra pressure, extra nerves, or are you a pretty cool fin right now?
EL:
Well, in the end, this is just one rally among others, this is what I've probably kept on saying. And sometimes heard before. I mean for me it's so different than the previous ones. We need to do the same job and that's it.
Q:
You make it sound so simple.
EL:
Well. But in the end, it is. So of course, I mean there there's some added bonus this weekend, but in the end, we just need to keep on running as we have.
Q:
Any decisions on what's happening next year yet?
EL:
No, not yet. I mean, I hope, I hope first of all that I will be running, and I think I will. And second of all, yeah, I wish I do more rounds than this year, but we will have to wait.
Q:
Finally, what would it mean to you to be able to take the title away this weekend?
EL:
It would mean a lot, but to be honest, I think one day at a time, one stage at a time. Let's, let's see if it happens, let's see on Sunday how it feels.
Q:
I definitely think you should become a mind coach after rallying because you completely chilled me out, Emil. Kaito let's turn to you now. Talk to me about your images of the stages. Were they what you expected, what you'd heard, or were you completely shocked when you saw them?
KK:
I didn't expect these stages so difficult, so narrow, twisty, slippery, changing all the time, sometimes in one corner three times, and it's very difficult, but er, the stages are for everybody, the same, and I enjoy this country, the people are very gentle, I like it and I enjoy the stages I hope, until Sunday.
Q:
That's a great way of putting it. It is going to be a huge battle this weekend though, have you done anything different to prepare yourself for this, or is it the same as normal?
KK:
I'm also ready, more than Emil because I'm 43 years old. I don't feel pressure more than usual. My heart is bumpy. I try to do my rally. Do you know what I mean?
Q:
Yeah. I think we all know what you mean.
KK:
I try to focus on my job and to do it as good as possible as always. So it's a normal rally with very demanding, maybe the hardest stages in my career.
Q:
Have you ever seen anything like this in your career? Could you compare it to some other events?
KK:
Yes, in some parts in Poland, in Corsica, but not like that.
Q:
Ok, Kaito, thank you very much. Osamu, let's turn to you now. WRC Masters 2 this weekend. Talk to me about your experiences within the WRC this year. Because we have seen you in Croatia on tarmac, we have also seen you in Belgium. What have you thought of your season?
OF:
Actually I really tense to speak English at here more than driving rally! I do really appreciated for promoter here. all arrangement and management is very well. I know the stages is really narrow and twisty challenging road, but I appreciate all supporter to make happen.
Q:
What your target is for the end?
OF:
Well, I had difficult time challenge in Croatia and Ypres, but this time we will do our best we can.
Q:
Ok. Thank you very much. Arigatou.
Toshi. Let's turn to you now. It is such a joy to see you here competing again. It's been a while since we have been here with the WRC. Twelve years. Firstly, what does it mean to you that the WRC has come back to Japan?
TA:
Yeah, I'm very pleased because last time in Hokkaido, so quite far from Tokyo and the middle of Japan, but now quite close to Tokyo and Nagoya, quite a good city, quite many people come to here easily, and many government and its exciting, a very good situation now, so I am very very pleased now.
Q:
Its such a different challenge for you, because we see you in a rally 2 car, a Citroen C3, this is a whole new ballgame for you. I know you tested at the start of the week. Tell me what the car is feeling like, how you're adapting to it.
 
TA:
Yeah, it's very difficult for me because normally I drive the group N Subaru so that's more big and more heavy, so Rally 2 car is like a go car, so I was so surprised when I drove the first time. So now I'm changing lots of things, but now, I'm just getting used to the car a little, but still, I'm not so good. So maybe after Sunday, maybe, the car is my friend, but now, completely not a friend, like a French lady, so "don't touch the car", or something. But I hope it will be my friend after the rally.
Q:
We hope so as well. So how many kilometers of testing did you do at the start fo the week?
TA:
Yeah, 2 day testing, maybe in the first day, 10 k, in the second 30k or something like that and Sunday maybe 30k or something like that, but not enough, because I drove a Subaru for so long that my body only knows group n cars, so you know, that is very difficult.
Q:
Your body is built for a Subaru. Definitely. So has it been nice seeing lots of old friends, old teammates, coming back?
TA:
Yes, like you, and many journalists, and cameramen, I know everybody, so that is very good for me, and I met like an old family, something like this. I'm very very pleased.
Q:
Toshi. Great to see you back here. Good luck this weekend. I hope the care becomes your friend sooner than Sunday. Mr Kovalainen, let's turn to you now. It's fantastic to see you here competing in WRC 2, You have had such success competing in rally in Japan especially this year, What's the hope for this weekend, with the big step up now into WRC 2?
HK:
Well, I think first of all it's going to be a huge challenge for myself, my codriver, and our team. This is a much bigger event than were used to, in Japan, so the priority is to get to the end of an event without any issues, from our side of the crew, and from the team's side, so for me the roads look fairly familiar. I'm probably one of the only drivers, the twisty and narrow roads, they don't look that strange to me, its only the high speed sections that look weird. So I'm confident to take this next step in my career, to enter this event but I'm not confident of making a god result yet, I think there is a lot of things to learn but I feel its time to… you have to take the first step at some point and this is probably the right moment and the right place. I wouldn't be confident going to rally Finland now, doing a season in Japan but I feel we are ready to do a rally here and come what may, I mean, not high expectations but step by step, corner by corner, stage by stage I think is the right approach for us.
Q:
And there is a lot of corners here as well. So, it will be a busy weekend. Talk to me about a more global approach because as I mentioned, it's been very much here in Japan where your rally career has been and not outside. Would you think of looking outside of
here, maybe next year? I mean is the goal to head to Rally Finland?
HK:
I mean it would be great to do Rally Finland one day, but obviously, the reason I have done the season here in Japan in the Japanese Rally Championship is because of my circuit background. So I've done seven seasons in the GT championship here in Japan, and before that the formula 1 career, and I've done like one off rallies over the years I have been here doing the GT , and I've always enjoyed, always had the passion for rallying. And in fact, I remember when I was very young watching WRC and rally drivers before I started watching Formula 1, maybe 85, 86, I remember the group B cars, you know, the Finnish cars, you know driving , and only when Hakonnen went to McLaren in 93, I remember started watching F1,and it was pure coincidence that I went to the racing side because I tried a family friend's go cart in family car park and my father thought, oh he's driving great around the car park so, there must be some talent there.
But I think the passion for rallying has always been there, and the passion for circuit racing has sort of faded a little and that was the reason I decided to stop last year, but at the same time, the passion for rally has grown. I mean I'm getting old, and I'm pretty sure I won't be world champion, but I still feel like it's worth pursuing my career a little bit in Rallying. I'm still fit and well, and while I can, I'll see what opportunities come and it would be fun to do something one day in Finland.
Q:
Yeah, I can imagine. It certainly would. you mentioned formula one GTs and then to rallying it's such a completely different discipline. Stop. The learning curve. must have been so steep do you feel now because if you had a few seasons in rallying that you are no ones almost there.
What areas do you feel still need work?
HK:
I mean, driving the car is no different than driving any other car. I mean all the racing and rally drivers, they know how to drive a car. and given a circuit or place the banner and a bit of time in the car, I think everybody can get around in it. But the challenge in rally is obviously driving roads that you just can't remember that you can't remember. And you have to rely on the pace notes. You know for me the number one challenge like many other rookie rally drivers is making good pace notes and then Co driver is reading them, to understand them. It's a fantastic feeling you know when you have made some good pace notes and the sometimes when she's telling me the road it doesn't look like anything like, it's a terrible feeling, and you know, that's the challenge we don't practice enough making the pace notes, and fortunately, we turn up in Japan and we do a little shake down and then we go and do the recce and do the rallying. If I was to make a real step forward in terms of performance, I think I would need to practice, and spend a lot more time making the pace notes and some coaching as well but like i said earlier i feel confident in enough and we can get around. and we have pace notes that kind of makes sense and hopefully its enough to stay on the road, but it's not to be enough to beat these guys, these guys are professionals and we have just got to accept that. Usually, I'm hard on myself, but this weekend I just have to have some mercy on myself.
Q:
Yes. Be kind to yourself. Final question. Given that you are more used to these kinds of stages and have people been coming to you for advice or have you been taking advice from a wealth of WRC talent that's here this weekend? Which way round is it been?
HK:
Well, I mean, I think it's been the other way that I've asked advice, you know, I had a chat with. And I had a chapter 10 it the other day from the Ricky and I mean I have a lot of bomber videos on YouTube on my YouTube page. I don't know people been watching them, but there's a lot of the sections that we have on this rally are there, my either G86 from last year or the few stages from this year. So, some of the parts of the roads that we are using this weekend are very familiar to me. In fact, since zero city stage, the seven-kilometer stage, I've done that so many times I don't need even patients there. Now that's one of the stages that are all very well. But then on the other hand there are a lot of news actions and. You know the risk is if I start trying to drive from my memory, you know there's going to be a corner that I don't remember. So, I just got to listen the pace-notes and go from there.

Fuente: www.fia.com