ERC: Kelly dedicates emotional victory to Breen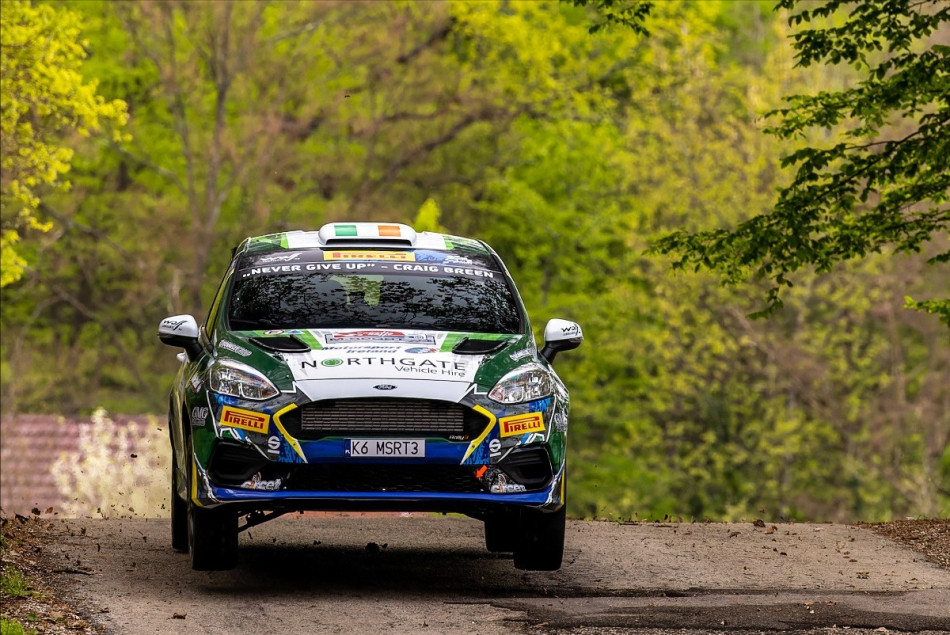 Pellier and Creighton traded stage times throughout Friday with opposing tyre strategies, holding their cards close to their chest as the fight intensified.
Creighton's rally came to an abrupt halt on Saturday morning, sliding off the road on the opening stage, as the crew walked away unharmed. It handed Pellier the lead who was left stunned at the stop line of stage nine.
It meant Raul Hernandez was set for third, until he arrived at the stop line riding on a brake disc, as he dropped to fifth and ultimately retired on the following stage.
All the chaos ushered in a top-three reshuffle with Diego Dominguez promoted to second while Tom Rensonnet sat third.

The next drama to hit Junior WRC came by way of Laurent Pellier's Fiesta Rally3 becoming hampered with a cylinder head issue as he and co-driver Marine Pelamourgues worked desperately hard to get to the end of Saturday and back to the safety of service taking heavy losses to their lead.

Pellier's trouble fired-up Diego Dominguez who tried to apply the pressure by pushing harder, with his plan unravelling before his very eyes. The Paraguayan smacked his rear right wheel into a banking on the exit of a corner, forcing him to retire for the day.

Eamonn Kelly capitalised on Dominguez's departure, rising to third by the end of the day and closing in on a limping Pellier along with second placed Rensonnet.

On Sunday morning Creighton returned to action with blistering pace, hell bent on maximising every opportunity to score Wolf Stage Win Points. Creighton achieved what he set out to do, bagging a clean sweep of stage wins and four additional points giving him a total of 14 points from the weekend.

Pellier set out with the simple goal of getting his Fiesta Rally3 to the finish of the rally on Sunday, but Croatia Rally threw up yet more drama as Pellier got no more than 300 metres into stage 19 retiring from the rally.

The drama wasn't over as Tom Rensonnet initially looked to be next in line for the lead until the Belgian also hit trouble on the same stage.

It meant Eamonn Kelly now led the rally with just one stage to go and 30 second buffer to bring it home. The Irishman delivered a calm and steady stage on the Wolf Power Stage, crossing the line to take his maiden Junior WRC victory and the second Irishman in as many rallies to win in Junior WRC this year.

Owing to Sunday morning's chaos, Roberto Blach finished third on the rally after delivered three stage wins on Saturday with encouraging pace. Belgian youngster Rensonnet was able to finish second, but disappointed to miss out on victory.
Fuente: www.fia.com