ERT – Coefficient scoring system explained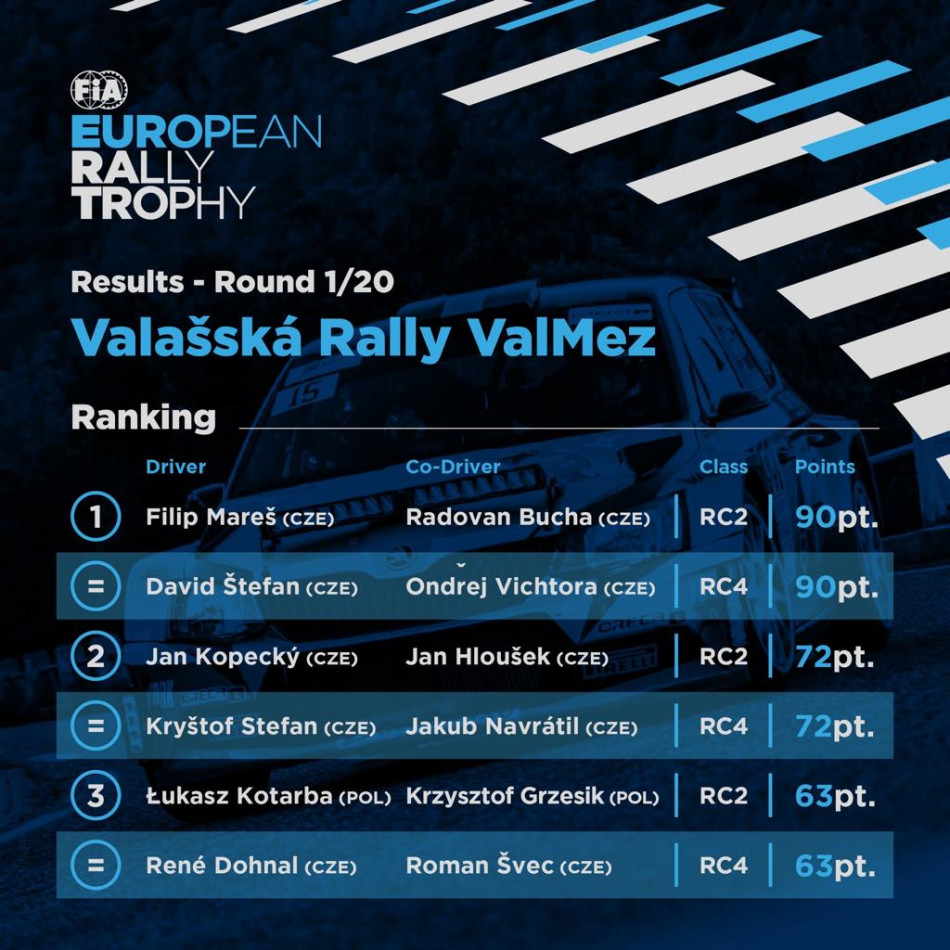 The revamped FIA European Rally Trophy (ERT) is underway with Filip Mareš/Radovan Bucha taking a popular home victory on Kowax Valašská Rally ValMez in Czech Republic last weekend.
Mareš, one of his country's best rally drivers, triumphed alongside co-driver Radovan Bucha in his RC2-category Škoda Fabia Rally2 Evo.
His performance on the Tarmac event puts him equal top of the provisional standings after the first of 20 ERT rounds scheduled between now and November.
With Czech David Štefan, who drove a Peugeot 208 Rally4 to RC4 category honours, equal on points with Mareš, the ERT's new-for-2023 format – which no longer uses the multi-class structure based on car performance in place previously – has already met a key objective.
From the outset, the FIA Rally Commission was determined that any driver could win the coveted ERT title regardless of what category car they compete in through the use of a coefficient scoring system. This is applied on all ERT events and is based on the number of starters in Rally2, Rally3, Rally4, Rally5 and RGT cars.
If there are three starters or less per category, coefficient 1 will apply. For four to seven starters coefficient 2 is used. For eight or more starters it's coefficient 3.
Because there were more than eight starters in RC2 and RC4 on Kowax Valašská Rally ValMez, coefficient 3 was applied to those two categories, meaning rather than scoring the usual 30 points for a win in accordance with the FIA Regional Rally Championship points allocation, Mareš took 90 points for finishing first in the RC2 category, with Štefan, who was co-driven by Ondřej Vichtora, also scoring 90 points for his RC4 success.
"The fight was really tight from the very first stage, and I am very satisfied with our pace over the weekend," said Mareš, after he beat multiple Czech champion and 2013 FIA European Rally Championship winner Jan Kopecký to first place. "The only moment we were losing more time to our main rivals was the end of the first day. I risked with a full wet tyre choice and last two stages were completely dry. We were the only crew with this package, but we managed it quite well despite this disadvantage.
"Sunday was quite clear in terms of tyre choice as it was constantly raining. We managed to extend our advantage to Kopecký in the morning loop with two stage wins. That was a really good start of the day for us and our main goal was completely fulfilled. We also launched our official partnership with Pirelli Czech Republic in the best possible way and I am very happy for that. Our tyres were working very well over the weekend."
In the RC5 category, Czech Republic's Josef Navrátil, who beat Romanian and fellow Renault Clio Rally5 driver Catherine Rǎdulescu to first place, picked up 30 points as coefficient 1 was applied due to there being two starters in the class.
An impressive 32 crews representing Czech Republic, Poland, Romania and Slovakia were registered for ERT points on Kowax Valašská Rally ValMez with the Junior category attracting six entries.
Adam Březík, a 27-year-old Czech, finished first in the young driver division in sixth overall aboard a Škoda Fabia R5, despite a damaged tyre on the rally's second stage costing him vital time. Jakub Jirovec, 24, starting his second season in RGT machinery, won that category in 12th overall and also finished runner-up in ERT Junior in an Alpine A110 RGT, with 21-year-old Kryštof Zpěvák completing the ERT Junior top three at the wheel of an Opel Corsa Rally4.
The gravel-based Rali Terras d'Aboboreira in Portugal hosts round two of the ERT from April 28-29.
The overall classification for the FIA European Rally Trophy after round one can be consulted on fia.com.
Find more information about the 41. Kowax Valašská Rally ValMez on the event website.
Fuente: www.fia.com