New-look FIA European Rally Trophy all set for lift-off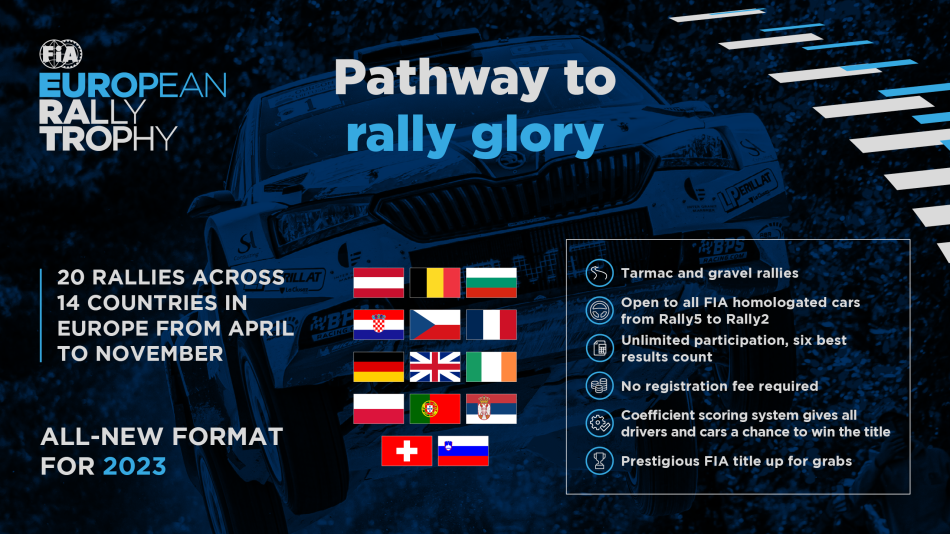 Moving away from the previous format of myriad regional competitions, the FIA European Rally Trophy (ERT) has been restructured for 2023 with crews contesting one comprehensive calendar of events and one title, a change that has proved popular to organisers and competitors alike.
ASNs (national sporting authorities) have been invited to nominate a maximum of two events each to appear on a simplified ERT calendar, while competitors can count their best six scores but will not be restricted to how many events they contest.
The number of events appearing on the ERT calendar will be carefully monitored and could increase or decrease in future seasons depending on levels of interest from competitors and ASNs. However, the winner-takes-all ERT Final will be discontinued, leaving one prestigious overall FIA title up for grabs, plus an award for drivers under 27 at the start of the year.
There will be no separate class titles based on car performance, but a coefficient will be applied according to the number of starters in Rally2, Rally3, Rally4, Rally5 and RGT cars. This will give the possibility for any driver to win the title regardless of what category car type they drive in the ERT.
A European tour like no other
The 2023 FIA European Rally Trophy will be contested over 20 events in 14 countries with rounds on gravel and asphalt. Kowax Valašská Rally ValMez in Czech Republic forms the opening event from m March 31-April 2 with the Internationale ADMV-Lausitz-Rallye in Germany marking the season finale from November 9-11. Along the way are events in Portugal, France, Switzerland, Ireland, Croatia, Belgium, Austria, Poland, Great Britain, Bulgaria, Serbia and Slovenia. Click here to view the ERT Trophy calendar for 2023.
ERT to increase participation in motor sport
A significant development for regional rallying, the new-format FIA European Rally Trophy will provide a platform to increase motor sport participation. With several countries hosting rounds of the ERT that do not regularly stage FIA events at this level, it is hoped that more officials will volunteer their time to support their local ERT events, gain experience of running events using the protocols from the WRC and ERC and increase their expertise in the process. At the same, because ERT events traditionally attract drivers and teams with international experience, competitors more used to national competition will be encouraged to develop their skills and knowledge against more experienced rivals, while also showcasing their abilities at a higher level.
FIA Regional Rally Category Manager Jérôme Roussel said: "The FIA European Rally Trophy is the most accessible international rally series and we wanted to give it a new twist. A lot of analysis has been done with the FIA Rally Commission and we are very excited about the launch of this new concept. With one calendar made up of a maximum of two events per host country, plus a coefficient that will make it possible for any driver to win the title regardless of the car they drive, we have high hopes that the changes will deliver a strong ERT. But we also want the events to have the potential to be considered for the ERC or WRC in the future."
More information on fia.com.
Fuente: www.fia.com