F1 – Verstappen quickest in disrupted practice session as F1 gets back on track in Baku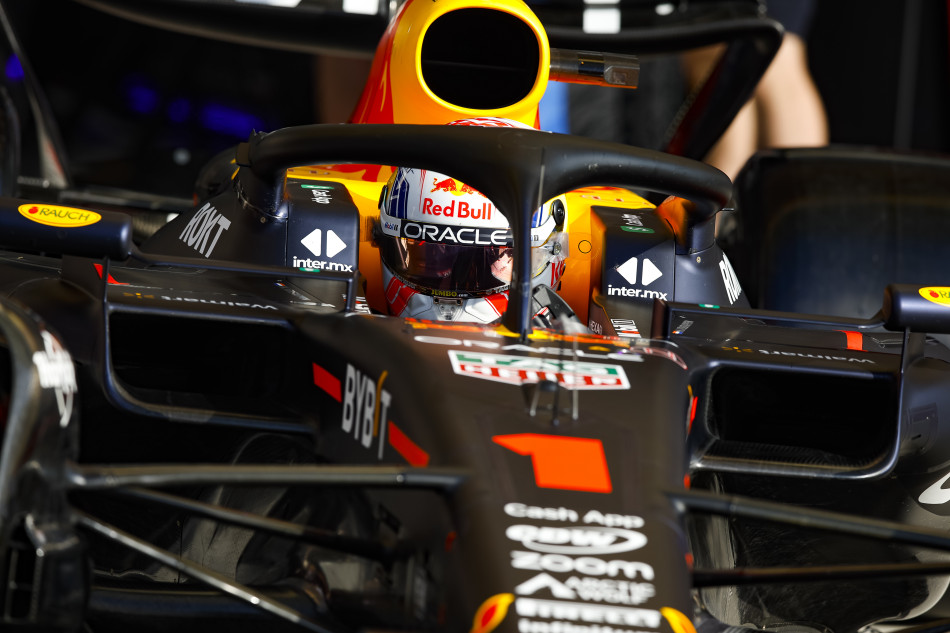 Max Verstappen set the fastest time of the sole practice session for this weekend's FIA Formula 1 Azerbaijan Grand Prix as F1 returned to action at the Baku City Circuit. The Red Bull driver finished just under four hundredths of a second ahead of Ferrari's Charles Leclerc with Sergio Pérez third in the other Red Bull RB19.
After a four-week hiatus following the Australian Grand Prix, a gap brought about the cancellation of the Chinese Grand Prix, F1 returned in Baku to the first of six Sprint weekends this season and with a new format in place.
Following ratification by the World Motor Sport Council earlier this weekend, Saturday's Sprint will have its own dedicated Saturday morning Shootout to determine its grid. Qualifying for Sunday's Grand Prix takes place on Friday afternoon and as such, teams had just one practice session to prepare.
With many teams bringing car updates to this weekend's event, the session got off to a busy start with a queue of cars lining up at the pit exit.
And in the opening minutes of the session it was Aston Martin's Fernando Alonso who set the pace, with the Spanish driver posting a time of 1:48.447 as drivers gradually ramped up their pace on the almost wholly resurfaced street track. McLaren's Lando Norris then claimed P1 with Leclerc then going quickest with a time of 1:45.129.
Ferrari's Carlos Sainz had a nervy moment early on when he clipped the wall on the inside of Turn 5 and both Mercedes complained of brake issues, which forced them back to the garage, but as the opening 10 minutes elapsed a trio of incidents disrupted the session.
First AlphaTauri's Yuki Tsunoda hit the wall and spun in Turn 3, resulting in a puncture that separated his rear right tyre from its wheel rim. The Japanese driver limped back to the pits but with the bulk of the circuit to navigate he shipped substantial damage to the rear of his car as it grounded on his long way back.
Pierre Gasly then brought out yellows when he slowed dramatically with flames visible under the engine cover at the rear of his Alpine. The Frenchman, suffering from a hydraulic leak, tried to get his car back to the pit lane but eventually had to pull over at the side of the track where fire marshals tried to get the blaze under control.
Almost simultaneously, at Turn 1, Haas' Kevin Magnussen went into the escape road and stopped. With the Dane unable to restart, the red flags were flown.
Just prior to the stoppage Verstappen had climbed to the top of the timesheet with a lap of 1:43.834, set on medium tyres and as the cars headed back to the pit lane for what would prove to be a 13-minute delay, the Dutchman led team-mate Pérez by almost three tenths of a second with Leclerc third, over half a second off Verstappen
When the action resumed Alonso jumped to fourth place with a lap of 1:44.893 but as the pace increased he was shuffled back by AlphaTauri's Nyck de Vries who posted a time of 1:44.866. Alonso's team-mate Lance Stroll then moved to fourth place on medium tyres and then found more time to take P2 with a lap of 1:44.053.
With a quarter of an hour left the field retreated to the pits to plot a soft tyre run ahead of this afternoon's qualifying session.
And it was the Red Bull drivers who were the first to emerge on the red-banded tyres. Verstappen set the first soft benchmark with a lap of 1:43.042, but with 10 minutes remaining that was beaten by Pérez who stopped the clock at 1:42.651.
Williams' Alex Albon then moved to third with a lap of 1:43.628 and Hamilton took P4 with a medium-tyre lap of 1:43.798.
Leclerc, after going off track on his first run, then split the Red Bulls with a time of 1:42.744 set on his second attempt. Pérez fought back with a lap of 1:42.600 but Leclerc found more pace to retake P1 with a lap of 1:42.352.
That looked to have settled matters, but in the final seconds of the session Verstappen rose to the top of the order with a final tour of 1:42.315.
Behind the top three, Sainz took fourth for Ferrari ahead of McLaren's Lando Norris, with De Vries in sixth. Stroll finished in seventh place ahead of Alonso with Albon in ninth. Zhou Guanyu finished in 10th for Alfa Romeo.
2023 FIA Formula 1 Azerbaijan Grand Prix – Free Practice
1 Max Verstappen Red Bull/Honda RBPT 1:42.315 22 211.218
2 Charles Leclerc Ferrari 1:42.352 0.037 21 211.141
3 Sergio Pérez Red Bull/Honda RBPT 1:42.454 0.139 21 210.931
4 Carlos Sainz Ferrari 1:42.899 0.584 23 210.019
5 Lando Norris McLaren/Mercedes 1:43.125 0.810 22 209.559
6 Nyck de Vries AlphaTauri/Honda RBPT 1:43.414 1.099 24 208.973
7 Lance Stroll Aston Martin/Mercedes 1:43.455 1.140 23 208.890
8 Fernando Alonso Aston Martin/Mercedes 1:43.560 1.245 20 208.679
9 Alexander Albon Williams/Mercedes 1:43.628 1.313 24 208.542
10 Zhou Guanyu Alfa Romeo/Ferrari 1:43.748 1.433 23 208.300
11 Lewis Hamilton Mercedes 1:43.798 1.483 21 208.200
12 Oscar Piastri McLaren/Mercedes 1:43.980 1.665 23 207.836
13 Valtteri Bottas Alfa Romeo/Ferrari 1:44.010 1.695 23 207.776
14 Yuki Tsunoda AlphaTauri/Honda RBPT 1:44.137 1.822 17 207.522
15 Nico Hülkenberg Haas/Ferrari 1:44.323 2.008 21 207.152
16 Logan Sargeant Williams/Mercedes 1:44.900 2.585 16 206.013
17 George Russell Mercedes 1:45.082 2.767 19 205.656
18 Esteban Ocon Alpine/Renault 1:45.955 3.640 8 203.962
19 Pierre Gasly Alpine/Renault 1:46.321 4.006 7 203.259
20 Kevin Magnussen Haas/Ferrari 1:47.498 5.183 8 201.034
Fuente: www.fia.com